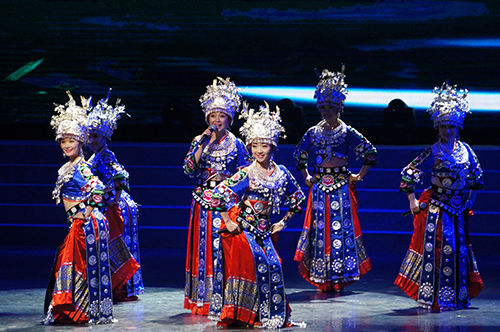 The national tour of Galaxy Award winning works, held by the Ministry of Culture, dropped its curtain on Oct. 27 at National Center for the Performing Arts with the closing performance that involved 14 excellent award-winning works from 12 provinces and covered a wide range of artistic genres, such as music, dance, drama and folk arts.
The 10th China Arts Festival in 2013 selected 220 Galaxy Award-winning works that embodied the top level of the masses' artistic creations. In 2014, the Ministry of Culture organizes a nationwide tour of Galaxy Award-winning works which runs through the whole year and covers the whole country.
It is estimated that there will be more than 400 special performances of the award-winning works, reaching an audience of more than 1 million people and involving all walks of life, such as community residents, workers, farmers, students, migrant workers, seniors and the disabled. All the performances are free of charge so that they can benefit more people.
The Galaxy Award was established by the Ministry of Culture to encourage people's artistic creation and promote the development and prosperity of socialist cultural undertakings.
We recommend:
| | | |
| --- | --- | --- |
| | | |
| Traditional "Datongnian" custom of the Miao villages in Guangxi  | China-South Korea cultural festival held in Seoul  | Miao people's intricate headdresses  |