Chu Tunan [Filephoto/China.org.cn]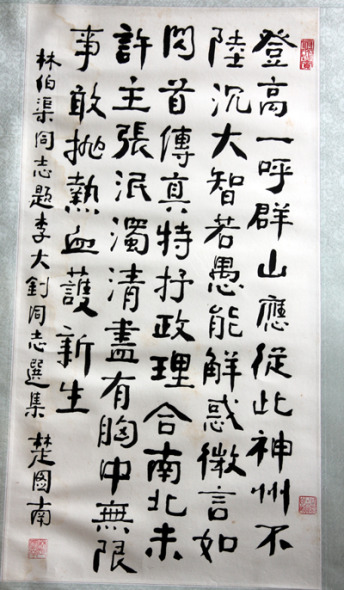 [Photo/China.org.cn]
The calligraphic works and art collection of a late founding father of China will be displayed in Singapore starting in early September.
A calligraphic exhibition of Chu Tunan's works will be held in Singapore from Sept 4 - 7, 2014 to mark his 115th birthday. Chu (1899-1994), a native of Yunnan province, was an educator, social activist, writer, translator, art collector, academic and a famous calligrapher.
He had a prominent reputation in the Chinese central government as the chairman of the Chinese People's Association for Friendship with Foreign Countries and vice-chairman of the National People's Congress. He was also the chairman of the China Democratic League and a professor at Beijing Normal University.
Chu was among those who stood with Chairman Mao Zedong on Tiananmen to declare the birth of a new China on Oct 1, 1949. He died 20 years ago at the age of 95 in Beijing, survived by three sons and a daughter.
About 60 of Chu's own calligraphic works dating from the 1960s to the early 1990s and several items from his calligraphy collection, including a poem written in brush by Chairman Mao, will be displayed for the first time when the exhibition opens on Wednesday evening.
As Chu was an educator who paid much attention to education during his lifetime, one of his calligraphy pieces will be auctioned off during the exhibition to raise money for Singapore's Hwa Chong Institution's Art Gallery Fund.
Dr. Patrick Fan, 45, who founded an investment and property investment consultancy two years ago, has helped to organize the exhibition together with several local and Chinese partners, including the Singapore-China Friendship Association. He, a relative of Chu, said that Singapore is the first stop on the exhibition's tour and that he hoped to take the exhibition to other countries in the future.
To preserve and promote Chu's legacy and artworks overseas, he also plans to launch an art collection fund in Chu Tunan's name.
The exhibition will be open to the public from Thursday to Sunday between 10 am and 8 pm at the Chui Huay Lim Club, 190 Keng Lee Road, Singapore. Admission is free.
We Recommend: