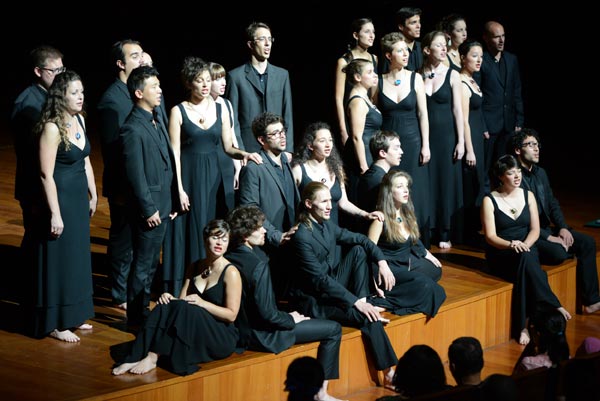 French choir Mikrokosmos opened the August Chorus Festival 2014 in NCPA last night in Beijing. Photo provided to chinadaily.com.cn
French choir Mikrokosmos opened the August Chorus Festival 2014, organized by the National Centre of Performing Arts, in Beijing on August 4.
Under the baton of French conductor Loic Pierre, Mikrokosmos Choir delivered two sessions of melodious harmony: a cappella French pieces performed without the orchestra and well-known choral works during Nights Revealed.
During the latter part of the concert, members of Mikrokosmos Choir entered the stage from all corners of the auditorium and surprised the audience with the sound coming from behind. This kind of zero-distance appreciation of music was the first since the Festival began in 2009.
Audiences also had a chance to truly appreciate the beauty of music, by itself, as the lights were dimmed during the show, leaving only the conductor's florescent baton visible. The rich stage art and luxurious vocals won many rounds of applause from the audience.
NCPA will host eight choir performances by groups from around the world and numerous "Choir Masters" sessions from August 5 to 24. Seventeen local choirs will perform in NCPA as part of choir art exhibition.
We Recommend: