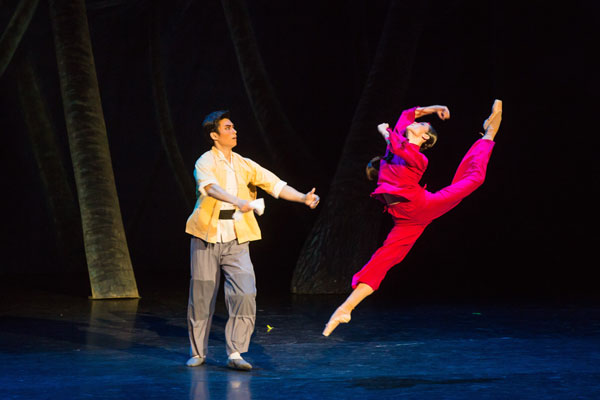 Zhang Jian plays the lead role in The Red Detachment of Women.
The revolutionary ballet The Red Detachment of Women is a Chinese classic. Now in its 50th year, it is touring the country and proving to be as relevant and as popular as ever. Chen Nan reports.
Zhang Jian has performed as Wu Qionghua, the lead role of The Red Detachment of Women, more times than she can count. "I've done it at least 100 times," the National Ballet of China principal ballerina says.
"Technique isn't a problem. But it was very challenging doing the choreography developed under the supervision of Chairman Mao's wife, Jiang Qing. What I initially found difficult was portraying a 1930s-era woman soldier. But the more I perform her role, the better I understand her."
As China's first original ballet production, Red Detachment of Women has been staged around the world more than 4,000 times since itspremiereinBeijingin 1964. It is best known in the West as the ballet performed for former US president Richard Nixon during his visit to China in 1972.
Based on afilmby the same name, it tells the story of a rural girl, Wu Qionghua, who escapes a life of slavery and joins an all-female Communist Party army battalion led by commander Hong Changqing on Hainan Island during the civil war in the early 1930s.
The first performance to commemorate the 50th anniversary of the ballet was staged in Hainan province in January - it was symbolic to begin the tour where the story takes place.
Wang Caijun, deputy director of the National Ballet of China, says the last stop of the tour was at the Venetian Theater inMacaobecause "East and West meet there".
"Ballet in China has a 50-year history. It's far behind the history of hundreds of years in the West. But the key to Chinese ballet's growing popularity is its interest in telling homegrown stories," he says.