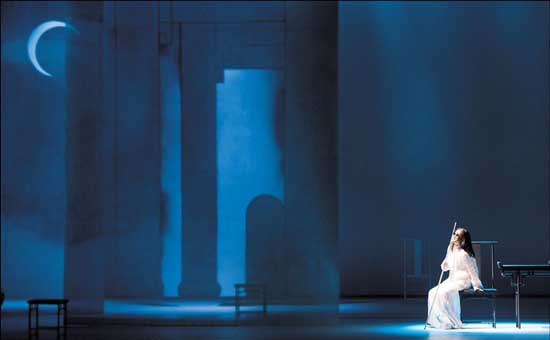 Mao Weitao, the 52-year-old director of the Little Hundred Flowers Yueju Troupe of Zhejiang Province, will play the renowned blind Chinese musician Ah Bing in "Moonlight Over the Spring" in Shanghai.
IT is not easy for a female Yueju Opera performer to impersonate a man on stage, but Mao Weitao has proved herself an outstanding case over the past decades.
The male characters Mao has portrayed are usually handsome, elegant and charming. A performer for 35 years, Mao has impressed a lot of people with her depiction of talented poet, noble lover, frustrated scholar and valiant general.
However, in recent years she has not only taken more challenging roles but also spared no effort to innovate this refined and melodic theater which has a history of more than 100 years.
"I am a person who is always ready to break down limits and boundaries of arts," the 52-year-old artist says. "Nowadays with many new alternatives of entertainment, Yueju has to make some changes to appeal to a younger generation of audience."
Mao's innovation of traditional theater has turned out to be remarkable. Last year in Shanghai, she presented a "new concept" Yueju Opera show "Good Soul of South Yangtze," which is adapted from Bertolt Brecht's well-known drama "The Good Woman of Szechwan."
Mao combined jazz, rap and modern dance elements with Yueju Opera singing to depict a Chinese woman who is forced into exploiting the workers at her small silk store to support her family in the 1910s.
Mao's innovation paid off. With at least 90 percent of the seats sold, the show was critically acclaimed and commercially successful.
"A very important issue facing performers of the age-old traditional theaters is how to survive the Internet era," she says. "We can't go back to the past glorious time decades ago, but we still have new opportunities."
From July 15 to 19, Mao, director of the Little Hundred Flowers Yueju Troupe of Zhejiang Province, will bring a series of performances to the Shanghai Grand Theater in celebration of the troupe's 30th anniversary.
Classics and new original shows are featured in the repertoire. A highlight is the new experimental performance "Moonlight Over the Spring," which will be staged next Tuesday and Wednesday.
The show provides an insight into the tragic life and delicate emotions of the renowned blind Chinese musician Ah Bing, also known as Hua Yanjun.
Hua, after he lost his sight due to illness, described the beautiful moonlight scenery within his heart in music. The "erhu" solo once moved famous Japanese conductor Seiji Ozawa to tears.
This will be the first time Mao portrays a blind folk artist. Over the past few months she has gone to Hua's hometown of Wuxi, Jiangsu Province, three times to learn about his stories and his deep love for music. She also practiced and performed the role in a dark room to better depict a blind man.
The "Five Daughters Offering Felicitation" on July 17 is a tribute to its debut in Hong Kong in 1983. The show is about the rise and fall of an ancient Chinese family. Since then it has been performed more than 800 times by the troupe all over the country. This month the performers of 30 years ago will make a reunion on stage and offer a new interpretation of the characters.
On July 19 the newly adapted "Butterfly Lovers," a Chinese "Romeo and Juliet" tragedy about Liang Shanbo and Zhu Yingtai, will present a new flavor. Mao says the show is inspired both by the original Yueju Opera version and the well-known violin concerto.
"We added several more scenes to depict how the two young persons fall in love with each other," she says. "The music and costumes of the show will also boast stunning, modern aesthetic elements to cater to today's audience."
Mao says her troupe will continue to train young Yueju Opera talents and are planning a new mechanism for the troupe's business operation and marketing to encourage a lot more creative productions.
We Recommend: