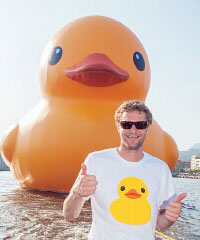 QUACK QUACK: Hofman and his big rubber duck.[Photo provided to Shanghai Star]
"Size is my thing. It gives a new perspective," he says. The unusual size of his sculptures also "downsizes our ego", he says. "Whatever your social status — you may be a CEO, an artist or anyone, it doesn't matter because we are all small human beings in front of the large sculpture — it frees your mind and your eyes."
Trial run for 1st high-speed railway in Xinjiang
Meihua Mountain Nature Reserve in SE China
Hofman has built many large sculptures — giant rabbits, frogs, and teddy bears, to name a few — for public spaces all over the world. All his works are site-specifi c except for the rubber duck, which has toured many waterways around the world. The big rubber duck will go on exhibition at Shanghai's Century Park from Oct 16-Nov 15.
(Visit rubberduckinchina.com to see where the rubber duck will be touring in China.)
"All the water in the world is the bathtub of all human races," Hofman says. The big rubber duck has become a big-scale icon that connects people all over the world, says Yang Min, director of Arty Magazine.
All of Hofman's sculptures are made of biodegradable materials, and usually don't last for more than a year. Doesn't he, like all other artists, want to create bronze or granite works that will last generations?
"I don't believe in immortality," he tells Shanghai Star. "I don't believe in art collectors and big money investment in art… the whole art world has become a system. But that's their play, not mine.
"I believe in art connecting people. I believe in making interesting work for people around the world. The process, rather than the result, is more important. The public space is for everyone. Today I present my sculpture here. Maybe next year a young Chinese artist can build something in here."
If you go:
9 am-9 pm, through Jun 16
Century Park, Gate 2 at 701 Jinxiu Road
Gate 3 at 901 Jinxiu Road, Pudong New Area
021-3876-0588
10 yuan (admission to the park)
We recommend: