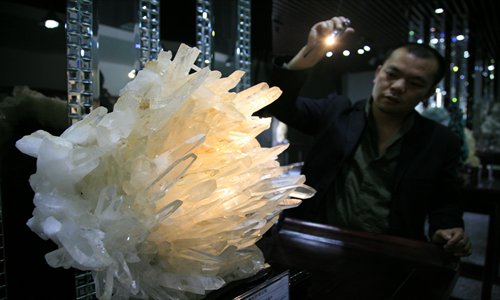 A collector illuminates his crystal specimen to show off its purity. Photo: CFP
"The green of jadeite is the most energetic color in the world. This green is the color of life," says Jiang Weihua, a 48-year-old collector.
Like most connoisseur of minerals, Jiang appreciates the oddly-shaped crystals and geodes as found objects. Unlike gemstones, whose beauty is uncovered by cutting and polishing, mineral specimens are prized for their natural shape and color. A wooden display base is usually the only supplementary element.
Jiang's most treasured item is a 5.3-kilogram piece of jadeite with a degree of purity that is exceedingly rare. He purchased it in 1989 in Myanmar.
At the minerals exhibition in the 2013 China International Jewelry Fair in Beijing, there was no shortage of onlookers. The exhibited minerals displayed breathtaking range. One geode hid a crystal formation that resembled a silky pompom; another sprouted a shock of stony green straws; still others resembled blocks of tofu, leaves of cabbage, sparkling rock sugar, a rosy radish and hunks of raw meat.
"As I walked by, they just caught my eye," said Stanley, a jewelry seller who declined to give his surname. "Only nature can create them. No artificial work can equal it."
This exhibition was organized by Liu Guanghua, a visiting professor at China University of Mining and Technology and China University of Geosciences. Since 1988, Liu himself has amassed tens of thousands of pieces from all over the world. He told Metropolitan that minerals collecting is a mature market in the Western world, but relatively new to China.
"I think people who collect minerals have great taste, because this kind of collection combines aesthetic and cultural considerations with scientific study," said Liu. "Look at these two pieces of white crystals, each with their distinctive character and beauty. This one is an intact prism crystalline structure, whereas that one, which should have been a prism, developed into a triangular shape! It's unbelievable how Mother Nature makes these mysterious and amazing creations."
According to Tang Fengxia, a dealer from Guilin in Guangxi Zhuang Autonomous Region who attended the exhibition and fair at Liu's invitation, university professors also frequent these fairs and contact collectors with intent to purchase. Bigger pieces and rarer minerals, Tang says, are likely to be purchased by wealthy people for their collections or as a decorative object. But the smaller pieces, especially those which can elucidate the structure of geological rock layers and mineral formations, are sought after as samples for university classes. Tang's customers have included geology professors at the Guilin Institute of Technology, the University of Shanghai for Science and Technology, and even the Beijing Geological Museum.
Of course, collectors compete to find delicate and diverse minerals not only to satisfy their need for beauty or edification. Over time, an excellent specimen can skyrocket in value.
Jiang points to his favorite piece, the jadeite from Myanmar. "I bought it 24 years ago for 60,000 yuan ($9,840). Now the National Gemstone Testing Center has appraised its value at more than 200 million yuan," said Jiang. The insurance policy alone is more than 800 times what he originally paid for it. Encouraged by such stories, dealers are apt to see the minerals market as a new gold mine. It seems crystal clear that the number of collectors is poised to grow.
We recommend: