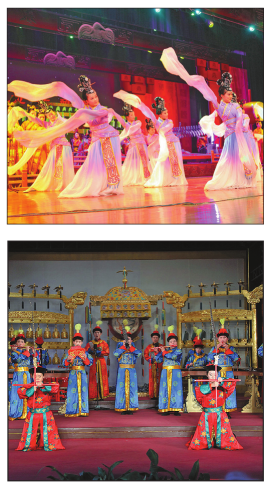 Yayue groups from Pingdingshan College, Henan province (top) and the Temple of Heaven in Beijing (above) will take part in Beijing Traditional Music Festival.
Beijing has been used to hearing the sounds of traditional music every October since the Beijing Traditional Music Festival was launched in 2009.
Starting on Oct 9 and lasting till the 13th, this year's festival will focus on the court music of different Asian countries, which has become unfamiliar to the general public.
Yayue, literally meaning "elegant music", is China's court music that first developed in the Western Zhou Dynasty (1046-771 BC), and influenced the formation of similar music genres of other Asian countries such as the Japanese gagaku and Vietnamese nha nhac.
The festival will showcase 16 groups, including the Flute Jeongak and Big Wind and Percussion Music Conservation Association of Korea; Gagaku Music Society of Tenri University of Japan; and Nha Nhac Ensemble of Hue Conservatory of Music of Vietnam.
The Chinese yayue has seen a revival in recent years. Yayue groups from university and colleges, such as those of the China Conservatory, Nanhua University of Taiwan, as well as more personal groups such as the Financial Street Yayue Ensemble and Gong Linna Group will all take part in the festival.
"Beijing Traditional Music Festival tries to promote a cultural identification which will advance the revival of our traditions," says Xie Jiaxing, executive artistic director of the festival and a professor with the China Conservatory. "We hope the festival will not only be a compulsory course for the students of the China Conservatory, but also a cultural name card for the Chinese society."
The festival is presented by the China Conservatory with support from Beijing Municipal Commission of Education and the Center of Ethnic and Folk Literature and Arts Development, Ministry of Culture. The festival wishes to supplement the Beijing Music Festival, which is dedicated to Western classical music, and the Beijing Modern Music Festival, which focuses on contemporary music.
The previous four traditional music festivals were held with the themes of "800 Years of Music in Beijing", "Colorful Silk Road", "Progression and Re-creation of Chinese Operas" and "Ode to the Great River".
Apart from concerts, the festival will also include the International Seminar on yayue, and three master classes by experts from China, Korea and Indonesia.
The festival will invite over 100 music teachers from primary and middle schools of Beijing to participate in its activities, with the hope of promoting traditional music to students.