The grasslands of Inner Mongolia were alive with the sound of music this summer as the World Music Essence festival brought 24 outdoor concerts to Hohhot, capital of the autonomous region.
The festival's finale from Sept 20 to 22 closed out the season of folk music bands from all over the world that performed every other weekend from June to September in Shiqi Grassland Culture Park.
The concert series was coorganized by the Hohhot city government and Grassland Cultural Protection and Development Fund of Inner Mongolia, an organization founded to revive traditional Mongolian culture and enhance communication with overseas counterparts.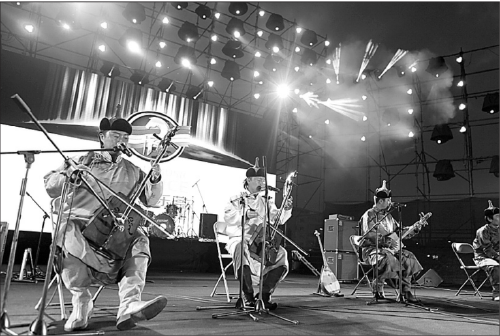 Angchin, a local band from Inner Mongolia, is performing the traditional throat singing.
Unlike many other music festivals in China that focus on pop music, the event presented a relatively new form called "World Music," a mix of traditional ethnic and modern elements.
Mongolian groups are an important part of World Music, said a statement from the organizing committee, so the festival was "a great opportunity for the local music in Inner Mongolia to be better known worldwide".
The event broke the record in Hohhot for the number of participants in outdoor concerts.
The festival presented bands from the United States, Canada, Ireland, the United Kingdom, Armenia, Russia, Cuba, Brazil and other countries plus top-tier local bands and non-Han ethnic groups in southwestern China.
Academic seminars for discussion of ideas among folk musicians from different parts of the world were also held during the festival. The country's first World Music Awards were presented at the closing ceremony this year.