Yue Minjun, one of China's most renowned contemporary artists, opened his first solo exhibition, L'Ombre du Fou Rire, in Paris. Hosted by the Cartier Foundation for Contemporary Art, the exhibition runs from November 2012 to March 2013.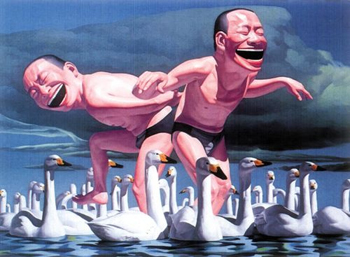 Noted for his smiling, cynical, brightly-colored self-portraits, Yue is perhaps the best-known Chinese artist in the West. L'Ombre du Fou Rire includes over 40 masterpieces representing 30 years of Yue's efforts, in addition to about 100 sketches never previously shown and a collection of personal photos.
The Cartier Foundation also acquired on loan many of Yue's works from collectors across Europe, Asia and America, allowing visitors to assess the artist's changing vision and witness his development through different periods of creativity.
Source from China Today
Editor: Shi Liwei