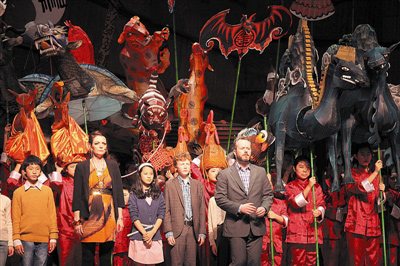 The animals from Noah's Ark will find a new home at Pudong's Lujiazui Central Greenland tomorrow in the beloved children's opera "Noye's Fludde" by Benjamin Britten.
Children will participate, carrying animal kites and lanterns, instead of wearing costumes. They will also sing in the chorus.
Admission to the outdoor play and party is free but seats can be reserved.
The 1957 opera by English composer Britten (1913-1976) is part of the 2013 Music in the Summer Air Festival (MISA).
"Noye's Fludde" is a one-act play based on the bible story of Noah's Ark, but it also resonates with the challenge of environmental degradation, global warming and rising seas, says Lady Linda Wong Davies, chairman of KT Wong Foundation, a major producer of the opera.
The foundation promotes understanding of Chinese culture.
"Everybody knows about Noah's Ark in the West, and there are many historical stories involving flood in China. We consider it a great chance to integrate Chinese culture and philosophy into the Western story, and deliver the green message not only about environment, but also about how men deal with the environment," says Davies, "Don't you think what Noah did is actually what we call biodiversity protection today?"
The opera is directed by Oliver Mears, artistic director of Northern Ireland Opera, with Nicholas Chalmer as the orchestra conductor and Simon Lima Holdsworh responsible for artistic design.
British actor Paul Carey Jones and actress Doreen Curran will play Noah and his wife, the only two adult roles.
Six children from China and two from Northern Ireland will perform solos, while 80 children from local art groups will sing in the chorus.
"Britten did not want his children's play to be staged in an opera house, but at outdoor venues like zoos or parks," says Davies, "That's what we did in Britain and we will keep the tradition in China as well."
Rather than dressing the children in animal costumes, traditional Chinese hand-made animal kites and lanterns are used to play the animals boarding Noah's Ark.
All the kites and lanterns are the size of the real animals. They are made by artists from Weifang, Shandong Province. "Children of different sizes will carry different animals. Small children will carry little animal lanterns and walk around, which is very cute. Medium-size children will hold the kites, while taller children will carry the big animal lanterns on their back," says Davies. "The audience will be amazed to see all those animals being packed in that single ark."
"Noye's Fludde" is also an educational program for 2013 MISA; it is Occupation-Career Experience Day, according to Zhou Ping, vice president of the Shanghai Symphony Orchestra who organized the festival. Apart from performing on stage, children will also work backstage and work as news reporters covering the event.
"Working and cooperating with each other like adults for a drama show will be a wonderful experience for most of the children in the one-child society," says Davies.
Date: July 20, 5:30pm
Address: 15 Lujiazui Rd E., Pudong
Tickets: Free
Tel: 400-8210-522
We recommend: