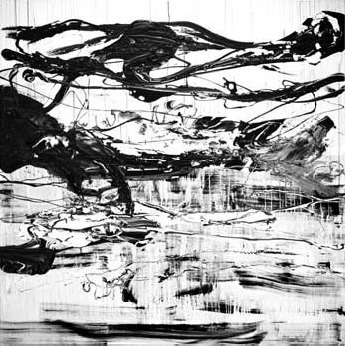 Wandering Mind by Han Mengyun.
As a young Chinese artist influenced by her homeland's and Western culture, Han Mengyun doesn't believe in pigeonholes and strives to defy narrow definitions in her own work.
The 24-year-old began studying art in elementary school.
"I was born with the idea of becoming an artist," she says.
She soon formed her own style of painting, which will be on display in her upcoming solo exhibition In Between Islands in Beijing.
Consisting of four groups of paintings, a set of ceramic paintings and a series of Chinese ink-and-wash works, the exhibition borrows its Chinese name Wu Ding from the Greek word apeiron, meaning indefinite and infinite. As the artist says, it explains her motivation to paint.
Born in Wuhan, Hubei province, Han grew up in Shenzhen before attending Bard College in New York. She has started a master's degree program at Rutgers University in New Jersey.
The education she received at both Chinese and US schools allowed her to think critically and prompts her to question everything, including education itself.
"I took that attitude to looking at art from the East and West, past and present," says Han.
With years of training in the West, Han says she never had a strong desire to identify herself as a Chinese artist until she realized that she deeply relates to the cultural and philosophical underpinnings of Chinese aesthetics.
She says she has been influenced by both traditions. The technical and material aspects of the Western traditions enriched her work but no longer assist her in furthering her practice. Chinese philosophy gives her new insights into bringing different spiritual structures to art.
"By doing what is traditionally Chinese, I'm able to experience a spiritual freedom while painting because of an authentic sense of belonging," she says.
Since 2009, Han has been trying to combine traditional Chinese landscape painting with abstract Expressionism by using bold colors and forms.
When she made the four-panel piece in the series Samsara, she was thinking about T.S. Eliot's Four Quartets. "In my beginning is my end, in my end is my beginning" is a line from East Coker that inspired her to utilize a circular structure to interweave end and beginning in a set of paintings.
"I arranged the paintings in a way to give the viewer a sense of time as they walk around the paintings, similar to the experience of looking at a Chinese horizontal scroll painting," she says.
She also points out that Chinese landscape painting is influenced by Taoism and its understanding of emptiness or nothingness is reflected in leaving white space - a compositional approach that reveals how the emptiness of the white rice paper comes to be defined as specific spaces when juxtaposed with the forms rendered by ink.
Han's exhibition will run from July 7-21 at Today Art Museum in Beijing.
chennan@chinadaily.com.cn
We recommend:
 

 

 Chanel fans celebrate brand's eternal style
 Shanxi cultural industry expo opens in Taiyuan
 

Shanghai intangible cultural heritage showcased in Taipei