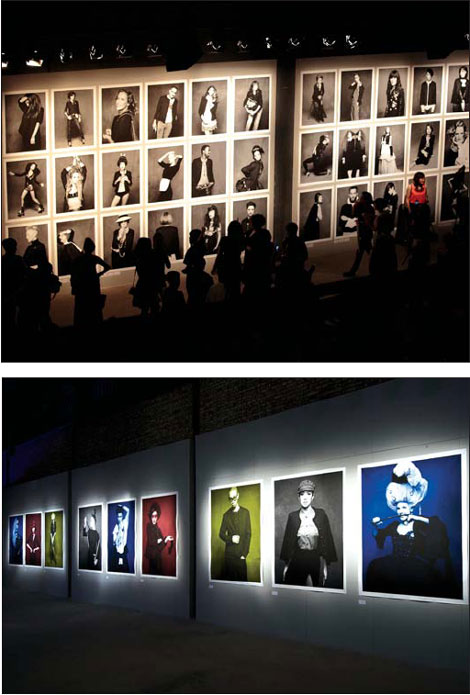 Chanel's exhibition shows the different ways celebrities wear the brand's iconic little black jacket to suit their own styles. Photos provided to China Daily
"Fashion fades, only style remains" - Coco Chanel's famous quip has long been embraced by fashionistas, and the truth of the remark is perfectly illustrated by a new photographic exhibition from the French fashion house.
Chanel is holding an exhibition honoring one of their most iconic garments - the little black jacket.
More than 100 photos of celebrities, including Sarah Jessica Parker, Uma Thurman and Lily Allen, wearing Chanel's little black jacket are on display in Beijing's 751 D-Park and Shanghai's NIB Building.
The exhibits have been selected from the book The Little Black Jacket: Chanel's Classic Revisited by Karl Lagerfeld and Carine Roitfeld.
The event in China presents some new photographs of Chinese celebrities, including singer Li Yuchun, fashion blogger Han Huohuo and model Sun Feifei.
"It's all about the creativity of the brand. Those celebrities, if I can say, are 'playing' with the jacket," says Bruno Pavlovsky, Chanel's president of fashion.
The celebrities who wear the jacket adapt the garment to suit their own styles. Rapper Kanye West pairs it with chunky metal necklaces; actress Kirsten Dunst wears it over a leopard print brassiere; singer Vanessa Paradis matches it with a white skirt and holds an umbrella; model Natalia Vodianova adds some giant roses; model Kiko Mizuhara wears a kimono; and street fashion icon Alexa Chung pairs it with jeans.
Sarah Jessica Parker is holding the jacket. She is wearing a crown on her head and jumping and laughing. Chinese actress Zhang Ziyi gives an icy stare, the jacket casually thrown over her shoulder.
Zhou Xun is wearing a fur and a chiffon veil, and Tang Wei, with a big ponytail, is wearing a sailor's beret.
Pavlovsky insists there was no set criteria when selecting the celebrities - they are all simply friends of Chanel. The label did not seek them out and the collaborations came about "spontaneously".
"They are friends of the brand. They come to do this not because we ask them to, but they want to be photographed by Karl Lagerfeld," Pavlovsky says. "It's not a question about money. It's about friendship."
There are a lot of people wanting to participate. If there is enough time, Lagerfeld can double or triple the number of celebrities who are photographed.
Chanel produces eight collections per year, including six ready-to-wear and two haute couture lines. The exhibition aims to reflect the brand's philosophy. Lagerfeld produces many designs, but they all adhere to the Chanel aesthetic.
Starting in Tokyo last March, the exhibition has been held 12 times in different cities across the globe before touring Beijing and Shanghai.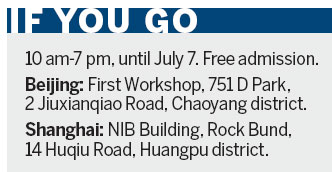 However, if you want to buy the little black jacket in Chanel's boutique, you will find you are out of luck.
The luxury brand produces many jackets every year with different colors and fabrics, but many of them are inspired by the original little black jacket.
"You will find some pieces similar, but not this one. It is quite interesting," Pavlovsky says.
Compared with other luxury labels, Chanel keeps a low profile. In recent years many luxury brands have opened many boutiques, but Chanel has only 10 stores in the Chinese mainland.
"It's more important to do it step by step, and we are not in a hurry at all. It's all about the image of the brand. We are helping consumers to understand the creativity of the brand," Pavlovsky says.
That may explain the exhibition's main purpose. It is not to make money, it is not to sell garments, but to illustrate Coco Chanel's understanding about design: Fashion fades, only style remains.
gantian@chinadaily.com.cn