A vital front for modern art in China the city is hosting a large art exhibition. The Shanghai Biennial presents work from more than 70 artists and centers on the theme of social change. The artists hope to deliver on this theme through interactive devices.
The largest art installation at the biennial is titled Telephone. Pick up the receiver on any telephone, and there are over 50 of them hung on some 30 posts, and one can hear a piece of audio, be it a pop song or a description of an academic term.
The seven people in this group are each chanting a story from the newspaper in their hands. This art work is called News Blues.
"It's that you always have to change the leader of the group, which is not framed. Somebody might read for five minutes, or ten minutes. There's very simple set of rules. And they have to organize themselves, function like a miniature society...You have to organize yourself," artist Nicholas Boothman said.
Another interactive art work is imitating how different kinds of noise in the city can hypnotize people.
"Noise is always a monotonous sound repeating itself again and again, so it draws you to sleep," a visitor said.
"What I'm hearing is the noise generated by factories. It's really annoying. It causes insomnia," another visitor said.
Trying to understand how a changing society affects people, the art biennial runs until next March. The works featured have been submitted from 20 countries and regions.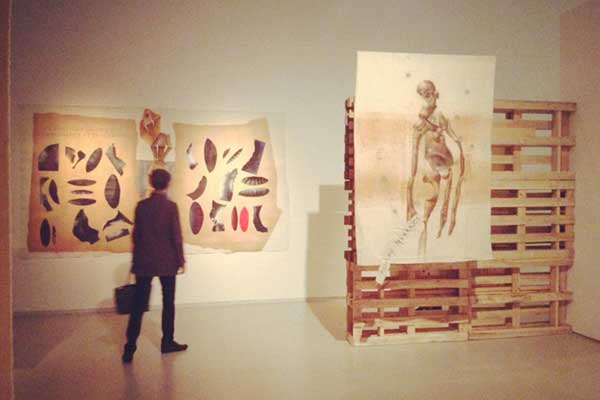 A vital front for modern art in China the city is playing host to a large art exhibition. [Photo/CCTV.com]