In 992, Taizong of the Northern Song commissioned to engrave the Chunhua ge tie, in which a good selection of model calligraphy over the centuries was included. But shortly the engravings were destroyed and re-cuts and re-engravings of model calligraphy sets appeared using the original Chunhua ge tie as a model or prototype. The present example, commissioned and compiled by Wang Cai (1078-1118), Prefect of Ruzhou, Henan province in 1109, is a good example of such re-cuts. A total of 12 volumes of 109 model letters of pre-Qing archaic inscriptions from bronzes and stones, as well as renowned calligraphers of the Qin, Han to Sui, Tang and Five Dynasties are included in the compilation. As the engraving was done in Ruzhou, hence it is called Ru tie. Some Northern Song connoisseurs on calligraphy had harsh criticisms on Ru tie. They, apart from challenging the authenticity of some of the model letters, also pointed out editorial mistakes, the carelessness and the crudeness in the engraving. However, some Qing scholars regarded the engraving, although coarsely done and unpretentious, was still faithful to the original.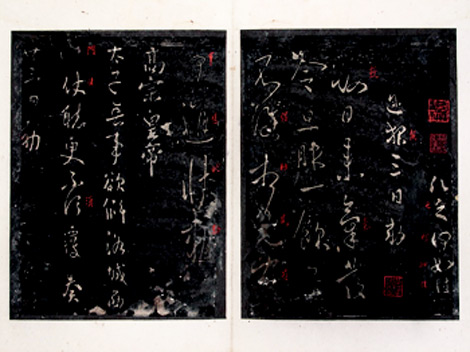 Commissioned and compiled by Wang Cai in 1109 Ink on paper, three albums, each leaf 26.2 x 20.8 cm
The Ru tie has been well-known for its rich contents of model letters. It starts with bronze inscriptions of the Shang and Zhou dynasties, stone drum inscriptions from Qiyang, seal script by Li Si of the Qing, clerical script by Cheng Miao, cursive script by Zhang Zhi, and inscriptions on stones by the First Emperor. The following volumes contain calligraphy pieces by emperors, Wang Xizhi and Wang Xianzhi, and renowned masters of the Tang dynasties. Although the authenticity of some of the pieces is not without question, the compilation is comprehensive and representative. Also, the original engraving of the early 12th century had survived well into the 16th century, hence, good early rubbings are readily available. These three albums of rubbings were probably made in the 12th or 13th century. It was formerly in the family collection of the Qing Guangdong collector Wu Rongguang (1773-1843).
We Recommend