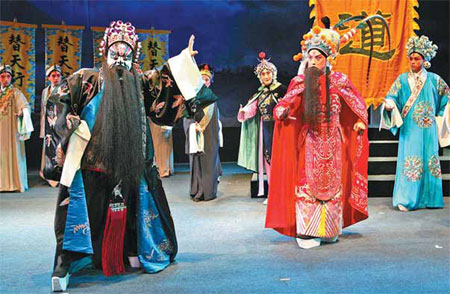 Dalian Peking Opera Company head Yang Chi (left) performs with famous Peking Opera actor Yu Kuizhi. Provided to China Daily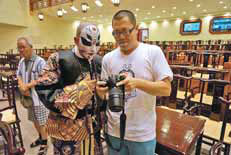 Wang Minzhong shows Gao Cangjian photos of his performance in the Hongji Stage in Dalian, Liaoning province. Zhang Xiaomin / China Daily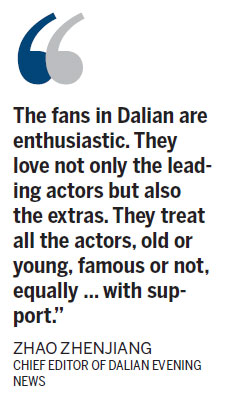 In Dalian, Peking Opera and its actors have found a supportive home full of adoring fans. Zhu Chengpei and Zhang Xiaomin join the show in Dalian.
The Hongji Stage in downtown Dalian in Liaoning province has been a magnet for Peking Opera fans of the northeastern coastal city.
After a century of ups and downs, the stage built in 1908 sparkles again after being restored in 2010.
Wang Minzhong, a 35-year-old English teacher, goes to the theater every weekend.
"Prior to seeing a live Peking Opera, I wondered if I could understand a single word of it," Wang says.
He immediately took to it and it triggered his interest to find out more about the opera, often said to be a quintessence of Chinese culture. The more he knows the more he loves it.
Initially, he was attracted by the stories, the wonderful gestures and the fighting. Later, he found a certain beauty in the facial paintings, singing, costumes and everything else in the theater art.
We recommend: