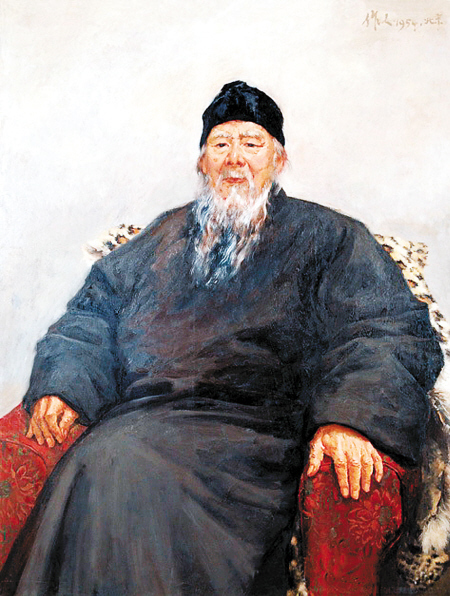 Qi Baishi, one of Wu Zuoren's best known portraits.
After 1946 Wu became a member of both the teaching and managerial staff at Peking State Academy of Arts, today's Central Academy of Fine Arts. The following year he held several well-received exhibitions in the U.K., France and Switzerland. With a distinguished global reputation, he was recognized both by France's Ordre des Arts et des Lettres in 1984 and the Belgian royal family, who awarded him a medal the following year.
Early on in his career Wu mainly focused on sketching and oil painting. In his twilight years he returned to his roots of traditional Chinese painting. During both periods Wu's combination of Chinese and Western techniques conveyed his breadth of vision and depth of meaning.
Unfortunately, few of his early oil paintings, such as Boat Tracker (Qianfu) and Caucus Meeting (Xiaozu Hui), have survived the decades. During the Japanese occupation works his like Sowing Seeds (Bo Zhong) and The Mother during the Air Attack (Kongxi Xiade Muqin) took on a more political theme, exposing Japanese war crimes. With the founding of the People's Republic the emotion expressed in his paintings became more positive, and he created a huge body of landscape paintings, including Desert Turning to Oasis (Shamo Bian Lüzhou) and Sanmen Gorge (Sanmen Xia). Wu also created many portraits, which are best represented by Qi Baishi and Korean Girls.
Today, Wu's works are sought after in the art market and at auctions. Estimates suggest that around two thirds of his 5,242 works that appeared at auctions have been hammered out, fetching a total of RMB 506 million.