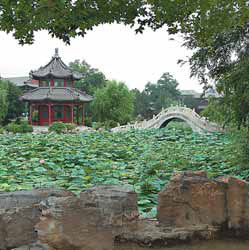 The Old Lotus Pond is known as one of the country's 10 most famous gardens.
The Old Lotus Pond is perhaps China's most likely historical site to have developed an identity crisis.
The grounds - one of the country's "10 most famous gardens" - in Hebei province's Bao-ding has constantly changed names and functions since Runan King Zhang Rou built it as his private "Snow Fragrance Garden" in 1227. It later became the Shuijian Government Office.
During the Yongzheng period of the Qing Dynasty (1644-1911), governor Li Wei built the Lotus Pond Academy - also known as the Academy of Classical Learning - in 1773.
Qing ruler Qianlong reconfigured it into the Emperor's Palace in 1745. The construction of towers and pavilions by Zhili provincial governor Fang Guancheng added a more mystical moniker - The Fabled Abode of the Immortals.
Many of those structures were torched by British, French, German and Italian invaders, who looted relics and burned what remained in October 1900.
That might explain why the Lian Ye Tuo Tao stone inscription is believed to scorn Empress Dowager Cixi for fleeing Beijing the night those four countries joined other members of the Eight-Nation Alliance to invade the capital about two months beforehand. The garden's other calligraphic stone etchings about rulers are by them or venerating - rather than deriding - them.
Two Tang Dynasty (AD 618-907) tablets are the oldest remaining relics.
The destroyed sections have never been fully restored. But renovations from 1988 to 2009 have removed many scars.
And, as a garden, a hefty dose of charm stems from flora rather than structures and history. The grounds are a manicured plot of twisting cypresses, cascading willows and bristling gingkoes. Of course, the centerpiece is the water body plated with lily pads and popping with blooms.
Today, the garden - best seen from the panoramic views offered by the Shuidong Building - sprawls over 30,000 square meters centered around the Lotus Pond from which the garden takes its name - at least its latest one.
We recommend: