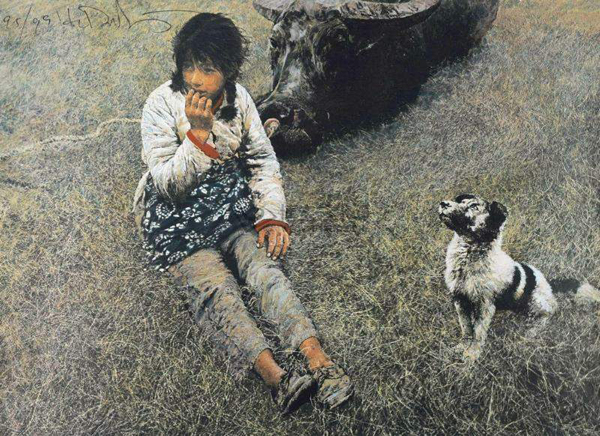 Spring Winds Have Awoken, oil on canvas by He Duoling. Photos provided to China Daily 
He Duoling's outgoing and fun-loving personality exists in sharp contrast to his estranged and sad paintings. Xu Jingxi reports in Guangzhou.
He Duoling's paintings are lonely and sad - the exact opposite of his real life.
The 65-year-old adores parties.
After setting up his solo show in Guangzhou on June 17, he stayed up drinking, eating and cracking jokes with his students and friends until 1 am.
Such revelry stands in stark contrast to the work at his recent solo show in Guangdong's provincial capital Guangzhou and his Beijing show with painter Xiao Kegang from July 4 to 14.
His works depict a woman wearing rabbit ears, whose large eyes are filled with fear as she hides in the woods, flees downhill and attempts to fly - as if soaring away from a desperate life.
Haze envelops his paintings' flowers, the colors of which dribble down the canvas, as if weeping.
The Beijing show will debut his most recent pieces from his Flowers and Wild Garden series.
"I'm still best known for my paintings of women, but I long ago expanded the themes," He says.
"In Flowers, I explored the application of Chinese ink-painting techniques to oils, rendering flowers with a blurred background. Western oil painting usually presents flowers in a more realistic way, while mine are more spiritual."
They perhaps show the spiritual distinction between He's daily life and artistic affairs.