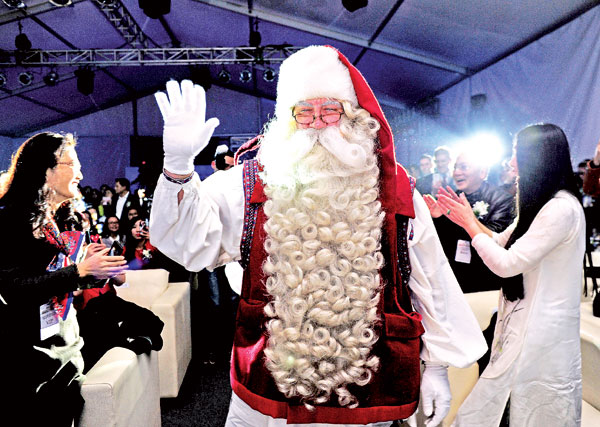 SantaPark in Chengdu, to open in June 2016, will concentrate on guests' personal experiences instead of amusement rides. The park is influenced by the Chinese interest in Western culture. [Photo provided to China Daily]
That town is Chengdu, where a twin version of Finland's famous SantaPark will be built in the next 18 months, Li Jing reports.
Santa Claus, that well-traveled old elf, not only has a home on the Arctic Circle, but also is about to get a vacation home in China.
SantaPark in Rovaniemi, in northern Finland, has been dubbed the "Official Home of Santa Claus", while 6,390 kilometers away, as the reindeer flies, a new SantaPark is under construction and is projected to open in June 2016.
The SantaPark in Chengdu, capital of Southwest China's Sichuan province, will feature attractions on 13 square kilometers based on the original design of Santa's home and will be run like SantaPark in Rovaniemi, which is in Finnish Lapland. The developers have provided no cost projections.
That includes Santa Claus' Office and Santa Claus' Main Post Office.
"It is very important that Christmas experiences be authentic," says Ilkka Lankinen, CEO of SantaPark, owner and operator of Santa's main digs in Finland. "It will be the world's second and Asia's first authentic SantaPark, and it will set the mold for the others to come."
Upon completion, the Christmas-themed attraction is expected to be one of the biggest amusement parks in China.
The project is a joint endeavor by local developer Chengdu Floraland Tourism Investment, Finnish attraction specialist Lappset Group and SantaPark.
SantaPark will bring its expertise and know-how in creating Christmas experiences and services, company officials say. Lappset's creative team will be responsible for the design of the physical site and production of equipment for the new attraction. The park was announced on Nov 29.
"In Finland, Christmas is part of our culture, whereas in China it is still quite new," says SantaPark Experience director Katja Ikaheimo-Lankinen.
SantaPark in Chengdu will concentrate on guests' personal experiences instead of amusement rides, according to plans. That means creating Christmas culture awareness and education using interactive technology and experiences that "promote active learning and physical challenges in a magical Christmas environment", Ikaheimo-Lankinen says.