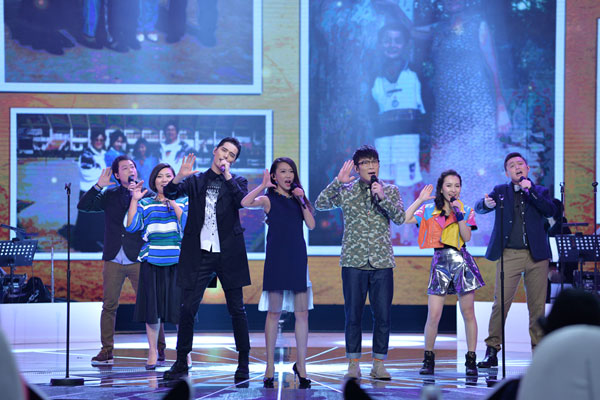 Performers sing on CCTV's singing competition show Rising Star. CCTV is relying on such entertaining programs to win more young viewers. [Photo/China Daily]
CCTV is embracing Internet culture and working with independent producers on TV shows to woo audiences under 35. Han Bingbin reports.
After charming audiences with his warm smile for 14 years, China Central Television host Li Jiaming recently found himself targeted by a group of young netizens unhappy with his style.
The complaints came after Li hosted the premiere of Rising Star on Oct 31. It is a singing competition show that originated in Israel. Many young netizens found his hosting style slow and boring and mocked it as "CCTV evening gala style". They even initiated an online campaign to replace him.
The 40-year-old host's reaction to the criticism was surprising. During the second episode, he jokingly called himself "the slow Jiaming" and acted much younger, talking faster and louder.
"It's like selling a product. When the customers file a complaint, you must change," says Li. "In the Internet age, you get feedback very quickly. These young people are so cute. When you're willing to change for them, they will quickly like you back."
In order to win more young viewers, CCTV is relying on programs such as Rising Star to embrace Internet culture. In Rising Star, a studio audience and fans watching on television vote for their favorite singers in real time, using the instant-messaging app WeChat.
Rising Star was designed to be a live broadcast, but the Chinese version isn't because of policy reasons. Still, WeChat votes by viewers at home are still a major factor in determining which contestants advance to the next round. In the show's latest episode, more than 6.5 million votes were cast via WeChat.
"Now the competition among entertainment shows is very fierce. Audiences have more diverse needs. CCTV needs to embrace an open attitude, interact with young audiences and blend with the Internet," says Lyu Yitao, director of CCTV's entertainment channel.