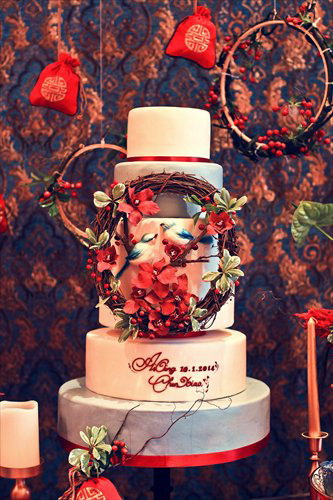 Luo Dan's works. [Photo/Courtesy of Luo Dan]
Elegant, is my first impression of Luo Dan, or Dann as she calls herself online. Wearing a camel dress and a shoulder-length pageboy hairstyle, she talks with a slow and pleasant voice and graceful gestures as she sits on a leather sofa throughout our interview.
On November 12, Luo posted a group of photos on her Sina Weibo account showing off her dessert designs for the APEC banquet held especially for China's first lady Peng Liyuan and the spouses of the leaders of 21 other members on November 11. Showing delicate and detailed lotus flowers made from sugar and decorated with stones and pieces of wood that made the cakes look like something out of a traditional Chinese painting, these photos immediately captured the imagination of netizens, who forwarded Luo's pictures more than 20,000 times.
Before she knew it this dessert designer, who was used to quietly posting her designs online and writing her blog, had become an overnight sensation.
Nominated in the Catering category for the 2014 Life Design Awards in China back in September, Luo told the Global Times that she got the APEC job thanks to a recommendation from a friend. "The organizers in charge of the event agreed that making sugar flowers for dessert was a good idea. They studied my previous work and saw how delicate my designs were. They thought it would be the perfect fit for the dinner, and so invited me to design some desserts for it," said Luo.
After handing over some preliminary designs for the dinner the organizers only asked her to make some small changes. Luo explained that the idea for making flowers came from all the female guests at the event. "Lotus flowers were very Chinese in style, but were just part of the overall designs for my desserts," Luo said, explaining that sugar-made pomegranates and fish were also part of the desserts. "Each of these symbols have auspicious meaning in traditional Chinese culture."