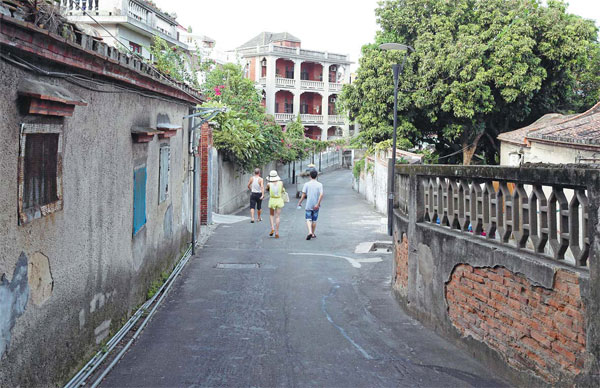 Gulangyu Island, which has a number of historical buildings, is a 1.87-square-kilometer retreat a ferry stop away from the downtown area of Xiamen. [Zhu Xingxin / China Daily]
Tourists looking to do more than eat and shop can take a stroll on the beachfront boardwalk and experience the gentle breeze.
A city in close proximity to Xiamen that is usually off the traveler's radar is Quanzhou. Radiating with lovely historic charm, it is famous as the starting point for the Maritime Silk Road and as the largest port in Asia during the Song (960-1279) and Yuan (1271-1368) dynasties. During the peak of its ancient glory, the city hosted a number of legendary travelers that included Marco Polo and Moroccan explorer Ibn Battuta, who compared Quanzhou to the Egyptian port city of Alexandria.
One important group of foreigners who came to Quanzhou via the Maritime Silk Road during the Tang Dynasty (AD 618-907) were Muslim merchants. A testimony of their clout is the majestic Qingjing Mosque, also known as the Ashab Mosque. It was built to resemble a mosque from Damascus, Syria, in 1009, and it is one of the oldest Arabic-style mosques in China.
The 20-meter-high arched gate is made of green granite. Its domes are carved with lotus plants and Arabic scriptures. When Islamic preachers followed their trade contacts to Quanzhou, the Ashab Mosque's worshipping hall became the center of Islamic prayer in the region.
Although the hall's large dome collapsed in an earthquake, the open-air, grassy field dotted with gigantic pillars evokes an awe-inspiring sense of solemnity.
For a closer glimpse into the city's historical and cultural past, include Wudianshi neighborhood, or "Five Shops District", in your itinerary. A 30-minute car ride from the city's downtown area, the district includes more than 100 traditional buildings from the Song and Ming (1368-1644) dynasties. The buildings were renovated and relocated into the area, part of a project launched in 2012 to resurrect and protect the city's cultural heritage.
We Recommend: