Commemorative banknotes are specially issued to commemorate significant events, and circulate in the currency market with the same denominations as ordinary banknotes. China issued a total of three types of commemorative banknotes on the Chinese mainland.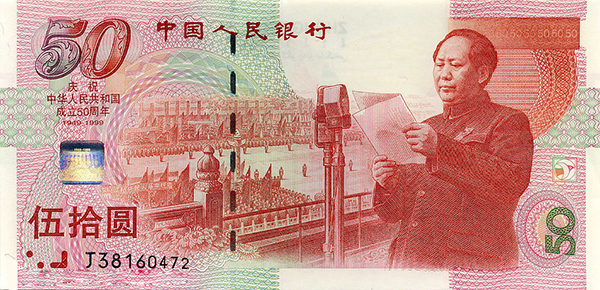 The 50th anniversary of the country's founding commemorative banknote [Filephoto]
Commemorative banknotes have always been an important part of coin collecting. As the first commemorative banknote in the PRC, the 50th anniversary of the founding commemorative banknote, issued in 1999, is of great collector's value. The figure on the banknote shows the great leader of China, Mao Zedong, proclaiming the establishment of the People's Republic of China at the founding ceremony in 1949. This commemorative banknote has a circulation of 60,000,000.
The New Millennium commemorative banknote / Century Dragon banknote [Filephoto]
The New Millennium commemorative banknote, issued in 2000, welcomed the new millennium and the 21stCentury. Since the figure on the banknote depicted a magnificent dragon, it is also called the Century Dragon banknote. Moreover, the Siamese notes (two same banknotes joined together), called double-dragon banknotes, are highly sought after by collectors, with a booming price in the market.
We Recommend: