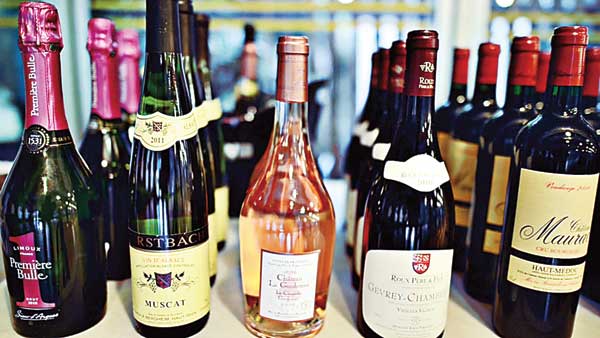 [Photo provided to Shanghai Star]
All the high-quality selections on the website are chosen by Andreas Larsson — one of the world's best sommeliers and a leading professional wine expert in China — to ensure the finest quality at the best value price.
The unique characters of each bottle are shown through those wine experts' online tasting videos. The selections are directly imported from their country of origin, delivered by local logistics partners and offered at the lowest prices online to the consumers.
"I chose to target wise Chinese wine lovers as I've seen the obvious growth in wine consumption in China, while more people are getting to know how to choose and buy high-quality wines here," Fabry says.
The online shop opened its market in Shanghai with two to five orders per day for the first month and now has expanded the network to Beijing, Guangdong province and other regions, sending out 50 to 60 orders on average daily.
With the benefit of knowing many winery owners and experts, Fabry is able to get a hold of a variety of wines directly, at lower prices, so that he can import and resell them to Chinese buyers with the best deal, which is cheaper than the market price.
In order to stand out from tough local competition, Fabry and his team worked out a detailed description of each wine with suggested dishes to match, available on the website.
"We focus more on the details of wines with the stories behind them, and we'd like to share those wine stories with our customers," Fabry says.
Fabry also organizes regular wine-tasting events to introduce his products by inviting members and wine experts to share their opinions on wines.
Fabri's next step in his business plan, to expand the market and attract more local consumers, is to open showrooms across the country. "I am planning to open 40 showrooms with a display of our wines in China within the next four years to let more Chinese people know about our products," Fabry says.
HERITAGE WINE CLUB
Business model: online wine shop
Staff: about 15 people Start-up capital: $500,000
Targeted sales revenue for 2014: 10 million yuan Working hours: 9 am – 8 pm