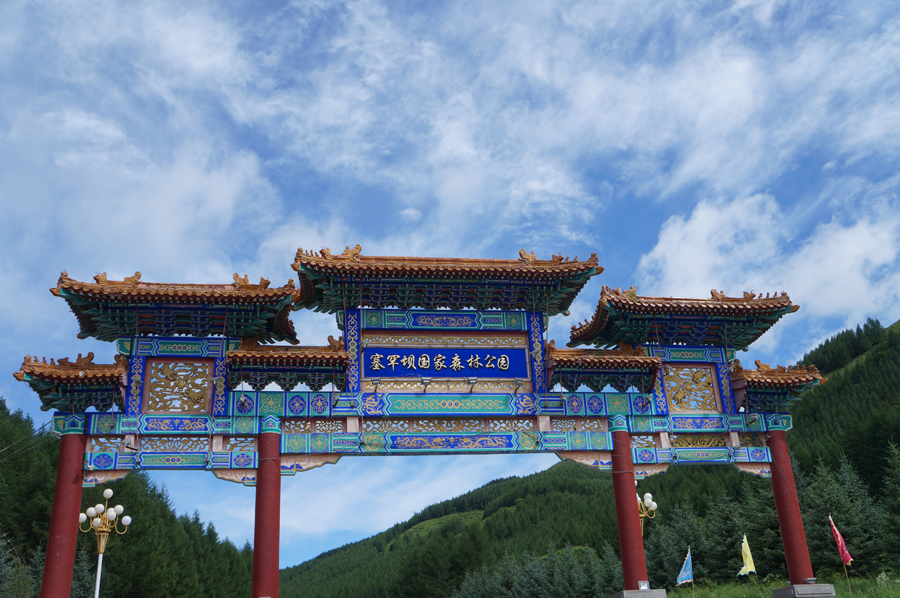 The beautiful environment and the blue skies at the entrance of Saihanba Forest Park. Photos taken on 8th July 2014. [Photo: CRIENGLISH.com/Charlie Cheng]
When I arrived the entrance of the Saihanba Forest Park, I was captivated by the clear skies. The temperature was refreshingly cool compared with nearby Weichang as the park's altitude is 1010 meters.
At the upper dam, wide range of flowers lined both sides of the roads. Differently colored flowers were sprinkled across the huge surrounding grasslands, like a real-life painting by the nature's hand. The trees were so tall and the environment well-preserved. I could hardly imagine that such beautiful grassland was once as barren as desert.
The Saihanba Forest Park was once part of the Qing Dynasty Mulan hunting grounds. After the Qing emperor fell from power, the hunting ground finally opened to the public. The massive reclamation ended up turning large piece of forest into a complete dry land.
The Chinese government eventually decided to reforest the area again and created the Saihanba Mechanical Forestry Centre in 1962. The forest workers dedicated their whole lives to forest development and planting technology. 50 some years later, the desert eventually transformed into a lush forest.
The team of forest workers has reaped several awards. The Saihanba Forestry Centre was recognized as a National Forest Park in 1993 and promoted as National Nature Reserve in 2007. With its unique natural ecological scenery, flora and fauna, and Qing royal culture, it was listed as a 4A Scenic spot, a Most Beautiful Place in Hebei and a China Best Cultural Tourist Destination.
The well-developed Saihanba forest park has allegedly drawn a hundred thousand tourists to experience the natural beauty of the land and see the wildlife. The peak season for visiting the park is summer. One tour guide informed me that more than 500 thousand tourists visit the Park in summer time when the flowers are in blossom.
In addition, the Saihanba Exhibition Hall gives very detailed information about the history, technology and functions of the park.
I was very lucky to visit the park in summer. The flowers were blossoming and the weather was great. For me it was a totally different experience for me, compared to the urban environment I grew up in. It was so beautiful, I wished I could stay longer to see and feel the park in different seasons.
Luckily for me, in the art gallery, I did see how the four seasons change the park's appearance and character. The Saihanba Forest Park is definitely a must-see spot in Chengde no matter when you are here.
We Recommend: