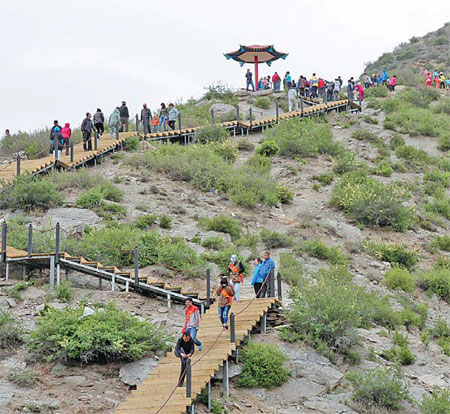 The area is now a tourist brand for visitors at home and abroad. Zhang Hongbiao / for China Daily
Horse racing
Louis Romanet, chairman of the Paris-based International Federation of Horseracing Authorities, once said the Inner Mongolia could be an ideal place to develop the horse racing industry.
The Hohhot government considers the industry a pillar of the local economy.
The authority is working on an international horsemanship and tourist center to combine modern management of horses with Mongolian culture.
The center will integrate horse breeding, riding and racing as well as other sports and entertainment activities, with a total investment of 68 million yuan.
It is also expected to be the host venue for celebrations that will mark the 70th anniversary of the establishment of the autonomous region in 2017.
Shengshuiliang Mountain
Nearly 50 kilometers away from the city's downtown, Shengshuiliang Mountain is famous for its clear springs at its peak. Villagers nearby use the water during sacrifices to their ancestors, which are held every year on May 13 of the lunar calendar, because, according to local legend the water has holy powers that can protect drinkers from illness and prolong their lives.
The mountain is surrounded by a picturesque five-square-km primeval forest in the north and a 15-square-km alpine grassland area in the south.
Several scenes from the TV series Genghis Khan werefilmed in the area in 1996.
Central park
A large central park at the main range of the Daqing Mountains is under construction.
When complete, it is expected to be the city's new economic growth point and will host Chinese and overseas large-scale sports events.
A 100-km national mountaineering and fitness road in the park has been finished and was selected as one of China's 10 classic routes for sports tourism in 2013.
Xincheng District
The Xincheng district is one of the main districts of Hohhot. It has a population of more than 600,000 and covers an area of 700 square km.
The district is home to 33 ethnic groups, but the Manchu people are the majority.
About 10,000 Manchu people live in the district, one-third of the ethnic group's population in Hohhot. The district is the city's transportation hub, financial and sports center as well as an important gateway for the opening-up strategy.