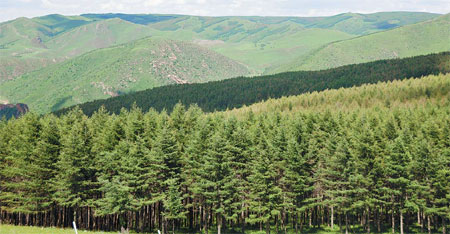 The forestry project has largely improved the environment of the mountain's southern slope. Provided to China Daily
In the coming two to three years, the project will focus on tree planting in villages as well as along the G6 Expressway and streets surrounding the southern slope of the mountain.
"The project was important to the city's ecological construction and helped to accelerate the development of the cultural tourism industry.
"I hope the project can also solve the production and living problems of the local villagers," said Nasanmunkh, Party chief of Hohhot.
Zhang Rui, Party chief of the Xincheng district, echoed his sentiment and said the government aimed to create a better living environment for villagers and allow them to enjoy different kinds of social securities.
Also, two fruit gardens and one botanical garden are due to be established.
The city government is also making efforts to create a tourist brand by advertising the mountain's natural resources and the grassland culture.
Yun Yuming, head of Xincheng district, said the project covering 18 villages aimed to integrate local ecological protection, modern agriculture and the tourist industry.
He said that more than 80 percent of the southern mountain's surface was to be covered by trees and other types of vegetation.