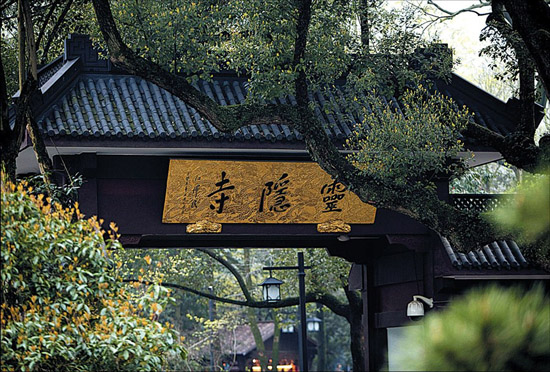 A tour to Lingyin Temple helps you to relief both your body and your soul. [Photo/ShanghaiDaily.com]
"Traveling is one of the most exciting and relaxing things in life. The enchanting environment and picturesque view of mountains and azure sea are always making me feel full of energy and calm in mind and body," said Ming Xia, a 35-year-old travel lover who also pays close attention to her health.
With the "lung-clearing tour" getting more and more popular, people go into the mountains to clear their eyes and minds with wide-open green landscapes, and clear their skin with mineral waters of natural hot springs. Combining wellness and travel together, a retreat tour offers people complete fulfillment by providing local culture, sightseeing and food, as well as a rejuvenation of body and spirit.
Yoga retreat
Summer is here. The temperature rises and yang, or hot, energy is surging. It's time for a new health regime including a new diet and more exercise. Regular exercise is recommended in every season to strengthen the immune system.
A yoga retreat holiday is a great opportunity to become immersed not only in the yoga but also in a local culture, cuisine and environment, says Andrea Scarborough, a certificated yoga teacher from the US.
Doing yoga regularly can help people become more aware of the seasonal changes within the body and to make necessary adjustments.
• Nankun Mountain National Forest Park
With nearly 97 percent plant coverage, the Nankun Mountain National Forest Park in southern China's Guangdong Province features original forest, a sea of bamboo, waterfalls and precious plants. In this enchanting environment, the Lotus Living Luxury Yoga Retreats offers a tailor-made retreat inside Crosswaters Ecolodge & Spa featuring inspirational yoga, wellness and healing.
Strolling down the mountain path, you can see an elegant pavilion with floor-to-ceiling windows where two streams cross. The yoga mat, brick and band are neatly placed on the ground.
After the yoga class, you are treated to a cup of hot ginger lemon tea to help relieve the fatigue of practice. The tea break offers a chance to communicate with yoga teachers and classmates.
Start every day with vegetables and fruits freshly picked from the fields. Hiking to the top of the mountain, you can enjoy the panoramic view of Nankun Mountain. There are cooking classes of local delicacies and a health class.
"This can be an amazingly transformational experience regardless of the season, free from the distractions and responsibility of your daily life," said Scarborough.
The second season is scheduled on August 3 to 8. Contact info@lotuslivingyoga.com for registration.
• Mandarin Oriental Sanya
Nestled in the Coral Bay, Mandarin Oriental Sanya offers yoga and pilates classes, providing a completely holistic approach to health to leave you feeling reinvigorated. You can practice on the verdant lawn, beach or seaside.
You can also experience the healing powers of qigong and tai chi from the Shaolin kung fu master. At the tranquil sanctuary of fragrant tropical bloom, you will be transporting yourself into another world.
We Recommend:
| | | |
| --- | --- | --- |
| | | |
| | Performance at opening ceremony of 1st China-Russia Expo in Harbin  | |