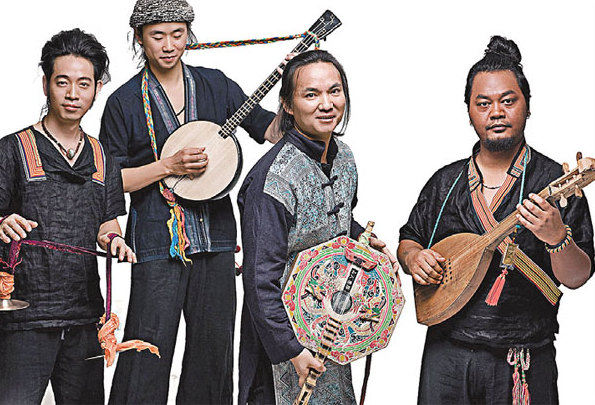 Shanren band's new album is appropriately titled Listen to the Mountain, in line with the band's name which literally means "mountain men".
Hailing from Southwest China's mountainous Yunnan province, the band uses instruments such as xianzi, a plucked instrument of the Yi ethnic group; bawu, a blown instrument of the Hani ethnic group; and the sun drum of the Jino ethnic group.
When they played at a recent ceremony to launch the new album in Beijing, organized by the China Rock Chart, they attracted both Chinese and foreign fans.
"Our root is traditional folk music from Southwest China, but we hope everybody can enjoy it," says Qu Zihan, the band's lead singer.
Judging from the audience's reaction - almost everyone sang and danced - Shanren has succeeded in entertaining the crowd. Some were old fans, while others were newcomers who picked up the words, melodies and dance movements of Shanren quickly. Many songs of the new album are adapted from folk songs of Yunnan, a province with a third of its population belonging to various ethnic groups.
Members of Shanren also come from different ethnic backgrounds. Bassist Ai Yong is from the Va ethnic group; multi-instrumentalist Xiao Budian is from the Bouyei ethnic group, and Qu and drummer Xiao Ou are Han Chinese.
"A lot of folk music is disappearing. We hope to play this music in such a way that it appeals to today's youngsters, so that they will pay more attention to our traditional culture," Qu says.
Most songs on the album are inspired by a trip two years ago. The band traveled to remote areas of Yunnan such as Nujiang, Lincang and Ximeng, and learned from local folk musicians. They recorded a lot of local folk music. The new CD provides a glimpse of their collection.
Most of these folk songs are very simple in structure. The lyric in Left Foot Dance goes: "Brother, play the xianzi. Sister, sing the songs. The moon is out. Stamp your left foot, and let's dance a happy dance".
Another song called Drinking Song goes: "Brother, fill the cup. Sister, fill the cup. If you like, drink it. If you don't, drink it."
Although simple, these songs are very rhythmic and dynamic, and mostly danceable tunes.
"We come from the mountains, and we longed for lives in the city," Xiao says. "But after living in the city for a period of time, we think we should go back to the mountains."
That's the reason why they named the CD Listen to the Mountain. Shanren was founded in 1999 and used to play a more rock-influenced style. Their first CD, released in 2008, depicts the lives of small characters in the cities. Now they are looking back to the traditions of the environment where they grew up.
The album's international version will be released by the World Music Network of the UK later this year. The band is planning international tours after that release.
Shanren has already performed in Korea, Spain, Britain, United States, Canada and Indonesia.
Qu says there is no barrier for international audiences to appreciate their music. "They sing and dance with us just like in China," he says.
muqian@chinadaily.com.cn
We recommend:
 

 

 Modest musician
 

'Star Trek' sequel rules China's box office

 More than a highland fling