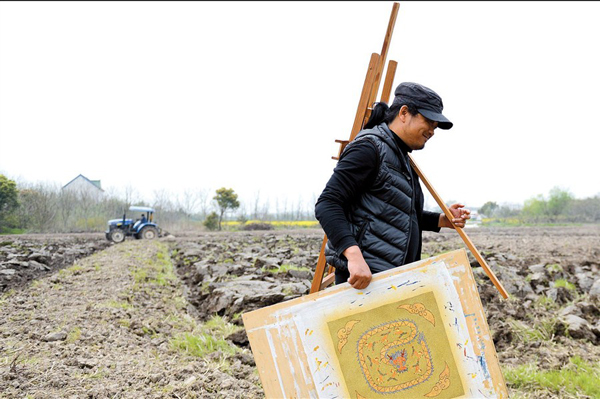 Farmer painter Lu Yongzhong
Compared with the other farmer painters in Jinshan, Lu Yongzhong walks a step ahead.
Now living separately in an "artistic manor" occupying 1,000 square meters where he paints and plants vegetables, breeds chickens, ducks and geese, Lu also shuttles between China and Europe every year.
He  is one of the first artists to incorporate Western oil skills into traditional Chinese painting.
"Art has no border. It's all about what you want to paint, not how," Lu says.
His paintings, depicting China's vivid village life, farmers, traditional customs and ancient rituals, are greatly appreciated by Westerners. Green and red are two frequently used colors in Lu's art work, as he believes these traditional colors in Chinese culture compliment each other.
His painting "The Happy Village Families" depicts 5,000 characters in a 15-meter-long work. The Guinness Book of Records certified it in 1998 as the longest farmer painting ever produced. Depicting village people busily celebrating Spring Festival, it took Lu five years to finish.
During that period, Lu began to gain an international reputation as he toured abroad with his solo exhibitions in dozens of countries, including the United States, France, Germany, Japan and India.
Born in 1970 in Jinshan, Lu is a son of farmers and says "the farming life gives me endless inspiration for my art creations."
Despite all the travel, he says he keeps his life simple — farming and painting. "I prefer to be called 'farmer' instead of 'artist'," he says.
Lu has an unshakable love for the land where he was born and grew up, but that doesn't hinder him from walking outside."I always treat Jinshan farmer painting as an international art form, not only limited in Jinshan area," he says, "That's why I feel quite proud that the special art genre has drawn many foreigners."
Now he spends half the year near Lyon, France, conjuring a different European scene under his brush strokes. During his stay there, he walks about 30 kilometers every day, and it is a sort of catharsis.
"There is too much impulsiveness and desire in the hearts of the Chinese people under the impact of the dramatic changes of the society in the past three decades," he says. "I just try to keep myself cool with a pious heart."
The walk also reminds him of his childhood memories about his mother.
"When I was little, I was diagnosed with suppurative arthritis," he says. "Everyone thought that I would be crippled in the future, but not my mother. She carried me on her back and walked 30 kilometers every two days to see a famous doctor continuously for six years. Guess what? I totally recovered. So I am grateful to my mother, to life and to all I have today."
Because of Lu's overseas experience, his paintings are blended with Western influences. "I want to prove that Jinshan farmer painting is able to deal with more subjects than one could expect."
While older painters stick to their traditional topics, Lu and other young farmer painters have shifted to a broader vision in their themes and objects, such as urban life and foreign places.
During the World Expo 2010 in Shanghai, Lu depicted a group of adorable Haibao performing a dragon dance at the gates of the red China Pavilion with a big Haibao standing in the center.
"Now I am preparing my solo exhibition this September in Shanghai. The Peace Hotel or Bund No. 1 might be the venue," he said.
We recommend: