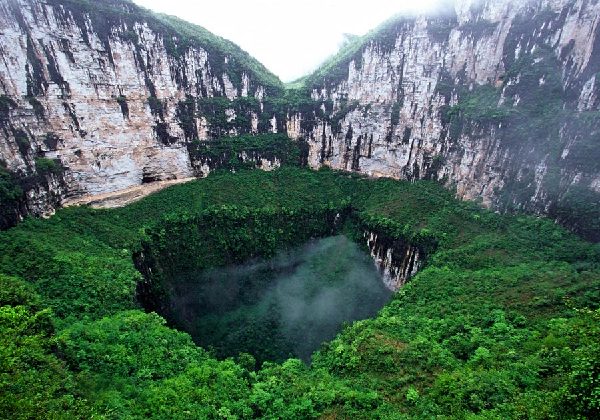 The 600-meter-deep sinkhole in Fengjie county, Chongqing, is coated with green vegetation in spring. Zhang Sanyou / China Daily
The county is located on hills, which challenges new drivers' nerves. Our car went up and down for about 15 minutes and passed across a bridge over the Yangtze River.
Suddenly the mountain appeared in front of us. Orange trees are planted on both sides of the road, and their fragrance combined with the fog to provide a mysterious prelude to our trip.
After an hour of climbing along the Jiupan River, we finally arrived.
The wall of the sinkhole forms a nearly 90-degree angle, as if the mountain had been cut by a cake knife.
"The rocks inside the sinkhole have been dissolved and carried away by the river. Water is stronger than rocks here. In autumn when leaves turn red, the mountain and the sinkhole look like a colorful painting," says Ran Wei, a tour guide.
The sinkhole is a nested double structure—the upper bowl is 320 meters deep and the lower bowl is 342 meters deep.
Staring down the hole from above, we saw mostly green. But as we looked carefully, it was easy to spot some pink—the peach blossoms.