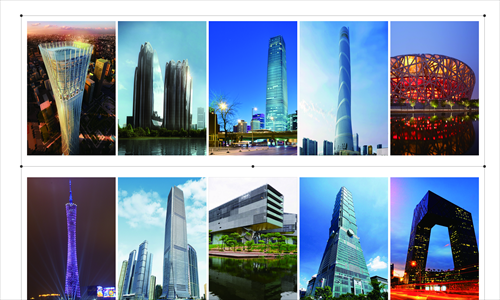 The top 10 Chinese buildings according to online poll Photo: Courtesy of "Election of the Top 10 Chinese Buildings" panel

On May 19, the panel for the "Election of the Top 10 Chinese Buildings" announced the winners of the first round of public voting: the still under construction China Zun, soon to be the country's tallest skyscraper; and Central Park Plaza, a fusion of China's pastoral architecture aesthetic and modern concepts.
Public voting, which will account for 40 percent of the final score deciding the winners, was carried out on 10 popular websites from April 15 to May 19.
The results of the public vote surprised many architecture experts because compared to the eight other projects voted upon that follow more Western designs, including Beijing's 330-meter-tall World Trade Center Tower 3, The National Stadium - commonly known as the Bird's Nest - and the city's new CCTV tower, the two winners have a definite Chinese flavor.
"Judging from the results, the public seems to think the most reputed and uniquely designed architecture is that which best represents China," Wang Mingxian, China's top architecture critic and chairman of the panel, told the Global Times.
Wang also noted that he and the other judges were pleased to see Chinese styled buildings being accepted by the general public.
Urbanization woes
The selection has been a hot topic of discussion since it was first announced back in April, mainly due to the fact that a large number of candidate buildings up for vote are giant construction projects, exaggerated in appearance and incredibly tall in height, that have been designed by Westerners.
"Massive demolition is being carried out in China, paving the way for super-tall skyscrapers. This is the perfect time to discuss what the essence of China's architecture should be and establish standards of what makes good Chinese architecture," said Wang, adding that the panel was looking to redefine the aesthetic values of architecture in China.
According to statistics from a report on super high skyscrapers released by motiancity.com in 2012, 87 percent of all skyscrapers (buildings over 152-meters in height) currently under construction around the world are in China. Building at an average rate of one skyscraper every 5 days, the report estimated that in five years the number of skyscrapers in China will reach over 800.
Another report on landmark construction projects in 100 Chinese cites for 2013-14 released by the China Index Research Institute revealed that the average height of China's landmark buildings increased to over 250 meters last year, an increase of 11.6 percent year-on-year.
It also revealed that these landmark construction projects have spread from first-tier cities, such as Beijing, Shanghai and Guangzhou, to emerging cities like Tianjin, Chongqing, Chengdu, Wuhan and Qingdao.
Disruption of harmony
Over the past few years, tens of thousands of hutong, traditional streets and alleyways, in China have been flattened to make room for new projects, while historical relics and ancient buildings have been razed by bulldozers to make way for unruly skyscrapers.
Architecture experts, architects and cultural specialists in China have been debating on how the country can maintain a Chinese spirit in an architecture industry dominated by the West. Many have also harshly criticized how the wanton construction of super high skyscrapers has negatively impacted the skyline and cultural essence of cities in China.
"Recent years have seen a rise in the number of skyscrapers with unique designs. While this represents the development of China, it also reflects a common problem where Chinese architects are blindly following Western trends when building skyscrapers, while disregarding traditional Chinese elements," Wang told the Global Times.
Despite the fact that skyscrapers have helped solve the problem of limited land resources, the over-construction of these buildings has come under fire, especially in some more scenic cities.
In one of these cities, Suzhou, the Gate of the Orient, a gate-shaped building some 301.8 meters in height, has drawn quite a bit of criticism as many people believe the building will negatively impact the garden city's scenic skyline.
Meanwhile, back in 2008, Beijing's new CCTV tower became a symbol representing the proliferation of "ugly buildings" spreading across China.
"With this tide of globalization, commercialization and modernization, most architects are blindly following Western urban planning trends. Comparatively speaking, foreign experts are much more concerned whether China has its own indigenous architectural buildings," Wang Shu, China's first and currently only Pritzker Architecture Prize winner, told the People's Daily.
Return of Chinese essence
For a long time now architects have been calling for a return of Chinese elements to building design. Meanwhile, some architects have already begun infusing Chinese pastoral elements into Western architectural styles.
Ma Yansong, a renowned architect born and raised in a traditional hutong, has a great love for the traditional Chinese way of life. With most of his designs utilizing Chinese elements, Ma has worked hard to encourage China to maintain its cultural essence as the nation undergoes rapid and sometimes dizzying urbanization.
For instance, Ma's Central Park Plaza project creatively adopts concepts taken from Chinese landscapes and integrates them into a modernized "landscape city" concept. Warmly received by the public, the project also fuses together office space and residential buildings with the surroundings.
"Ma's design represents the future of China's homegrown architecture, that we hope will eventually inspire people to think about the future of China's urbanization," architect Bu Zhengwei told the Global Times.
Bu noted that the future of China's urban planning lies with architecture's relationship with people's daily lives and living experience.
"Local authorities are in a rush to bring China to the world by building these incredibly high skyscrapers. However, these buildings are not connected to our history," Zhang Yiwu, a cultural expert from Peking University, told the Global Times.
"Good housing should be capable of providing solutions for low carbon emissions and environmental protection."
The final results for the "Election of the Top 10 Chinese Buildings," held by the Architecture and Culture Society of China and the Institute of Cultural Resources of Peking University, is expected to be announced in early June.
We recommend: