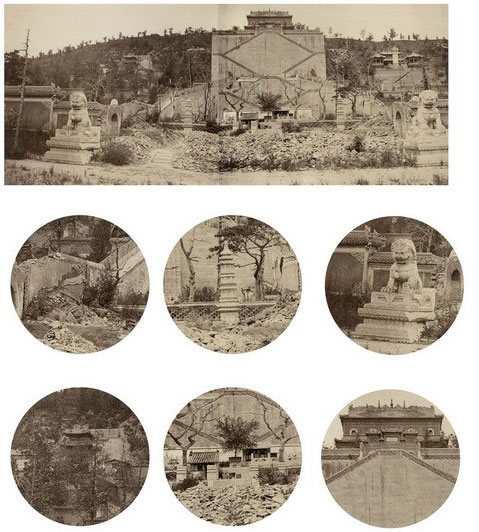 Century-old photos of Beijing City, including the ones of the Summer Palace, were revealed at a recent auction in Beijing. [China.org.cn]

Century-old photos of Beijing City were revealed at a recent auction in Beijing.
The photos, dated more than a century ago, were unveiled for the first time at the Huachen 2014 Spring Auction in Beijing from May 16 to 18. The black and white pictures brought back memories of the ancient capital city of China where emperors once lived, Legal Evening News reported.
One of the photos shows the Temple of Gratitude for Longevity in the Qingyi Garden, the former body of the Summer Palace in the 1860s. In the picture, which was believed to be taken between 1867 and1869, shows the garden after it was burned down by British and French troops in 1860.
Experts said this is the first photo to show the destroyed garden and temple debris after the British and French invasion. According to the auction catalog, the photographer is John Dudgeon. Dudgeon traveled from Europe to China in 1863 as missionary doctor and stayed in China for 35 years. He was one of the earliest photographers to take and publish pictures of China. His existing photos are very rare. At the auction, the photo of the temple in the Qingyi Garden sold for 160,000 yuan (US $25,616).
A set of six photos of Yuanmingyuan Imperial Garden (the Old Summer Palace) taken by British photographer Thomas Child, sold for 322,000 yuan (US $51,552). Taken in 1877, the photos show the Yuanmingyuan ruins 17 years after it was destroyed during the Anglo-French allied invasion of 1860, the same year the Qingyi Garden was destroyed. Experts said the set of photos can help with the historical research of the old imperial city.
Liu Yang, a Yuanmingyuan researcher, said Child lived in China for 19 years and took about 200 photos of Beijing. Only 10 of those photos were related to Yuanmingyuan. In 2008, the Zhejiang Hengdian Group bought two of the Yuanmingyuan photos at an auction. The set of six just sold this May are undoubtedly rare and precious, having been well preserved for 140 years.
The earliest known photo of Yuanmingyuan was taken in 1873. Child's pictures from 1877 show the changes that took place in the city during this four year span, including missing decorations and handicrafts.
Yang said, "These newly surfaced photos can help people see the history clearly.
"People only knew British and French armies burned down the Yuanmingyuan, but the Old Summer Palace was not just destroyed by that fire," Yang said. "During the later wars, stealing and illegal occupation also brought along bad consequences. Yuanmingyuan was gradually destroyed, and Chinese people should take note and reflect on that fact."
We recommend: