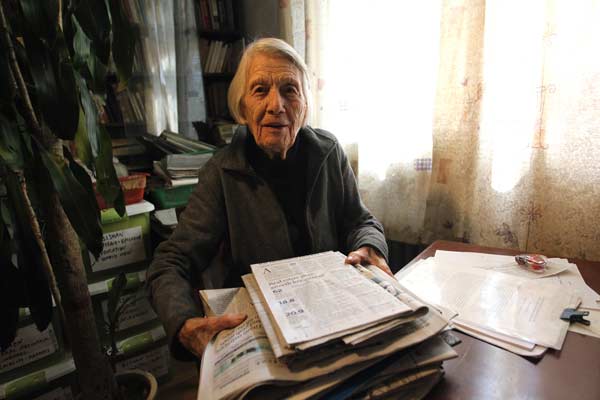 Photo by Zhang Wei / China Daily
Inspired by Edgar Snow's account of the Chinese revolution in Red Star Over China, the couple returned to China from England in 1947 to write a book about life in the Communist-controlled areas. Among their book collaborations are Ten Mile Inn: Revolution in a Chinese Village (1959) and Ten Mile Inn: Mass Movement in a Chinese Village (1979), which chronicled land reform in Shilidian, a village in Hebei province, while the civil war was going on.
In the almost 70 years since she came back to her birthplace, Crook has maintained her faith in the ideals of socialism—even after she and her husband were detained for years during the "cultural revolution" (1966-76), and now, as China has embraced a market economy.
"I think she is disappointed, but I think she is also very Chinese in this respect—she takes the long view of things," Constance Post, an associate professor of English at Iowa State University, who is working on Crook's biography, says in a phone interview.
"It's those ideals (of socialism) that she certainly wants to have restored and have people embrace and realize that money is not and should not be the be-all and end-all of life," says Post, who hopes to publish Crook's biography before the elderly woman's 100th birthday in December 2015.
"I think she is very encouraged by a growing skepticism elsewhere in the world about the capitalistic economic model," Post says. "I'm thinking especially of the Occupy Wall Street movement."
Crook, now one of the most senior "foreign experts" in China, has given speeches before state leaders, where she talked about matters of public concern. The issues closest to her heart involve the Chinese countryside, such as its rural preschool education, cooperatives and non-governmental organizations.
We Recommend: