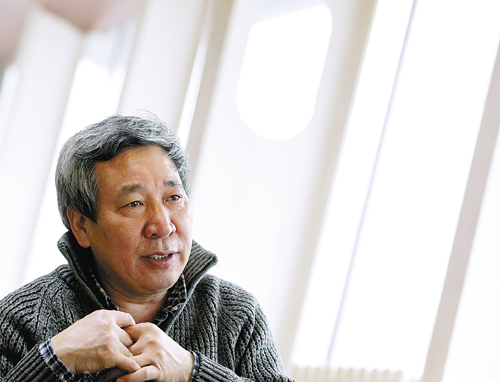 Author Yan Lianke continues his literary experiment in The Chronicle of Zhalie, which is about the transformation of a fictional small village in Henan province.[ZHANG WEI/CHINA DAILY]
A writer of Yan Lianke's stature can write what he wants, and he doesn't worry much if the truth hurts his readers-or his book sales, he tells Mei Jia.
Acclaimed Chinese writer Yan Lianke is constantly pushing himself for new approaches and new stories in his literary creation.
The 56-year-old Beijing-based writer has been in the spotlight since his residence became a target of "forceful dismantling", which cost him the place where he has long been weaving pastoral stories and dreams. But he doesn't want to write about that, he says-or about the foggy haze that is worsening outside.
"I see nothing new in those themes," Yan says at a cafe in northwestern Beijing.
His warm account of the lives of his generation and his father's was a commercial success, but he wasn't as pleased as his readers were. Writing a memoir is too easy, the author says.
The productive writer is always eager to create something "refreshing and challenging". He prefers themes with the potential for powerful narration.
Yan writes all of his work by hand, and when he sent his latest novel, The Chronicle of Zhalie, to a typist's company, the boss gave the task to two "better educated" typists.
"I was surprised when I got the text back because it was totally changed from sentence to sentence," Yan says.
Yan's unconventional usage of words and phrases confused the two typists: They changed all the "grammar mistakes" and "incoherent" expressions.
"But I still paid them," he says, with the thick Henan province accent of his birthplace, adding that he had to restore his original style.
The new novel is about the growth of fictional Zhalie village in Henan, from the home of 100 villagers to a super metropolis with a population of 30 million.
The dramatic expansion came on a wave of money accumulated from men being ruffians and women being sex workers.
"It's an astonishing novel with continual tides of astonishing climaxes," says veteran literary critic Chen Xiaoming with Peking University.
"It's true about part of the Chinese social reality in the past 30 years, but Yan depicts the truth to an extreme extent that turns out to be absurdly true and powerful," Chen adds.
One of the "juicy" urban legends that circulated in the 1980s and 1990s, Yan recalls, was about the origin of overnight wealth gained in the southern cities when China just spread its wings for the reform and development.
"People went to the south and returned home rich. Rumors flew in the home villages, saying they traded morality for money," Yan says.
He intended to write about his pessimism over the loss of moral order and beautiful ideals some 15 years ago. But it wasn't until 2012 that he found his way to tell the story when he was visiting Shenzhen, a city at the forefront of the country's economic transformation in Guangdong province.
"Chinese society and its changes offer an incessant source for the writers. Instead of locating stories, I'm searching for the right way to tell the stories," he says.