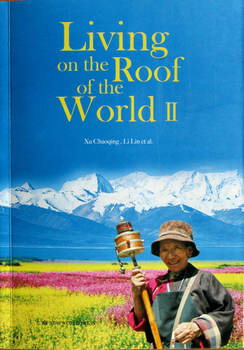 Title: Living on the Roof of the World (II)
Authors: Xu Chaoqing, Li Lin et al.
Price: RMB 78
Published by New World Press, Beijing, 2013
The 1,300-year-old Jokhang Monastery in Lhasa is bathed in morning sunshine. Rainbow hued prayer banners flutter on towering gilded flagpoles as smoke spirals from incense burners. Drolma Lhamo, in her late 70s, fingers her prayer beads as she makes her morning devotions, just as she has done for decades.
Drolma Lhamo lives deep in the labyrinthine alleys of Barkhor Street. Born in a traditional courtyard residence there, she moved out of the neighborhood when she was 27 to take up work in another location. Upon retiring 25 years ago, she returned to her birthplace. Although her life had reverted to its starting point, everything there had changed. What was a dirt road is now paved with stone slabs and lit by street lamps. Some residences have transformed into shops with signboards in Chinese and English as well as Tibetan.
In a store not far from Drolma's home, Li Ou is stringing turquoise bracelets. After graduating from art school six years earlier, Li found a job in Lhasa. She first sold the bracelets and necklets that she had designed in her spare time, and eventually saved enough to open her own business – a shop of around a dozen square meters. It nonetheless gave Li inspiration and a platform to realize her artistic dreams. She is one of many young people who have come to Tibet from all over China. They either work for modest salaries or open small businesses. In their free time they stroll in the sun by the Jokhang Monastery or chat with friends in sweet-tea houses, enjoying the leisurely life of Tibet.
Yumai is a remote township by the China-India border that consists of eight households of 35 people, all Tibetan. A bright five-star red flag is hoisted from every rooftop. From 1983 to 1995 only one family – that of then township head Sanjay Quba – lived here. After his wife died, Sanjay and his two daughters moved out. But after just three months, they came back. He told the girls: "If we leave, nobody will stay here."
Drolma, Li Ou and Sanjay Quba live ordinary lives in Tibet. They are the main characters in Living on the Roof of the World (II). The religious, geographical and historical aspects of Tibet give it an aura of mystique that impresses people. Some regard it as an idyllic land or spiritual home; others believe it has been polluted by commercialization. There is a wide range of books on Tibet, its geography, history, tourism, and customs. But mysticism, which actually diverts readers even further from the reality of Tibet, constitutes much of the hype on this mountainous outpost. Having published Living on the Roof of the World in 2011, New World Press has now published its sequel. The book series depicts the real lives of everyday Tibetans, their weals and woes, and gives outsiders a glimpse of so-called mysterious Tibet.
This new volume comprises more than 30 articles and 50 color photos. It is divided into four parts – "Families in Tibet"; "Backbone of the Snowy Land"; "The Second Homeland"; and "Spiritual Home." It contains no thrills, fictional plots, or melodramatic conflicts. Like a documentary, it factually records the lives of different groups of people.
"Families in Tibet" is about everyday people in Tibet. Some were originally serfs who lived in extreme misery, but who now enjoy a life of plenty with their children and grandchildren. This section has stories about the residents of Yumai – a forest ranger in Nyingchi, an artist who uses a fountain pen to make sketches on Barkhor Street, and an elderly man who lived abroad for 35 years before resettling in Lhasa. Although their experiences may seem nothing out of the ordinary, they reflect the everyday lives of Tibetan people of different backgrounds.
"Backbone of the Snowy Land" depicts extraordinary individuals within varied fields. They include a doctor working on the steppe of northern Tibet, the first Chinese to scale the summit of Mount Qomolangma (Everest) from its northern slopes, a retired official who has witnessed the leapfrog development over the last 60 years of local education, a village head who led rural residents in shaking off poverty, and entrepreneurs and young soldiers stationed along the border. Their inspiring stories reflect the pride and satisfaction they feel in helping to develop their homeland.
"The Second Homeland," much as the title suggests, is about those coming from all over the country to assist in the development of Tibet. A railway builder, a road maintenance worker, and a teacher in a village school, all are non-natives, yet feel a strong attachment to the land, having devoted their youth and energy to building Tibet into a better place.
"Spiritual Home" focuses on devout Tibetan Buddhists and the inheritors of Tibetan culture. Among them are lamas who renounce worldly concerns and commit to serving their gods, and a King Gesar storyteller, who wrote a sequel to the classic known as the "Homeric Epics of the East." Each in their own way contributes to the construction of a new Tibet, and in its course demonstrates the power of faith.
The authors of the book are all senior reporters. They focus on the fine details, and take a documentary approach to recording these stories, transposing relatively abstract matters into real and convincing content. This enables readers to take a panoramic view of the real lives of people living and working in Tibet, and of their inner conflicts and struggles.
For international readers who have little knowledge about Tibet, this book, through its lively narratives, shows them the authentic Tibet, past and present. It also raises many scenarios of Tibetan culture, modern history and especially contemporary life. This book is a microcosm of present-day Tibet that encompasses all aspects of local life and society.
we recommend: