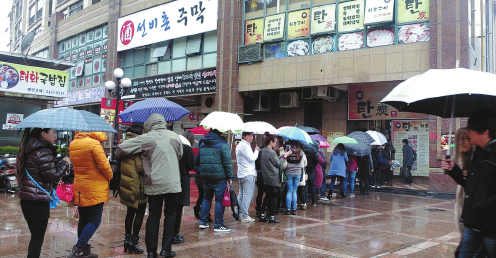 GAO ERQIANG/CHINA DAILY
People line up to buy fried chicken at a Korean restaurant on Hongquan Road, Shanghai, on Monday. A popular South Korean drama, in which the female protagonist idolizes beer and fried chicken, has made chicken popular again, despite a recent spate of bird flu cases.
Flanked by a DJ and a drummer, South Korean pop group Exo sauntered onto the stage at the Hunan Satellite TV station on Friday, joining the line-up for the Lantern Festival Show. The studio was flooded with fans holding light sticks in various colors, signifying allegiance to one or other group member.
On the same day, thousands of kilometers away at Shanghai's Pudong International Airport, the arrival of heartthrob Lee Min-ho, who starred in the TV series The Heirs, attracted a hardcore of young women willing to pay 3,800 yuan ($626) to access his half-hour media briefing.
"I'm totally attracted by his slim figure, chiseled abs and perfect complexion," said Li Min, a primary school teacher in Shanghai, who rushed to the scene for her dearest "oppa", a respectful Korean term used by women to refer to older males.
The popularity of the mobile Internet has helped to promote the phenomenon of Hallyu-or the wave of South Korean culture flooding other countries. Live concerts and entertainment shows become immediately available to thousands of die-hard fans who discuss endlessly the whereabouts of their favorite celebrities.
Avid viewers of the South Korean drama My Love from the Star took note when the female protagonist said she adored "beer and fried chicken" as her favorite food when the first winter snow began to fall.
Barbecue houses and lemonade booths along Hongquan Road in Shanghai's Korean area have become new favorites for Chinese women hungry for a genuine taste of Korea.
"I lined up for three hours simply to get a piece of fried chicken. It was on a work-day afternoon and raining heavily. Like-minded friends often go there every month," said Zhang Yuting, a big fan of Korean culture, who takes trips to South Korea to watch concerts every year.
The droves of people and the long lines are often seeking the spicy side dish kimchi or a spicy broth containing soft tofu, clams and an egg, said Kim Gi-chan, owner of Korean restaurant Gubaowu.
"My store usually closes at 10:30 pm. But I haven't finished work before 3 am every day since January. Fried chicken is the must-order dish for each table," he said.
Zhou Zhou, a student at Beijing Foreign Studies University, who took three exchange programs in Seoul and found popular items there and in Beijing were "strikingly similar", said, "Clearly the shows help popularize street food and spicy stews that are essential to the Korean heart and digestive tract."
The real draw is the crossover between Eastern and Western cultures, said Dai Yunjie, a seasoned concert promoter in Shanghai.
"The performers' synchronized dance moves and hand gestures do have an Asian flavor, but their music is really blended with Western elements, like hip-hop and rapping," said Dai.
Intrusive ads and a "going-mobile" trend have in part helped the Hallyu phenomenon to proliferate, said Michael Tang, president of hdtMEDIA, a digital advertising company.
"As people make trips to South Korea and see the latest line-ups or make big purchases, they are eager to 'share' instantly via Weibo or WeChat. It helps things to go viral much quicker than before," he said.
The growing popularity of Korean culture may also derive from a maturing business model, by which shows are tailored to the tastes of Chinese viewers, said Eric Moon, a senior manager at a South Korean firm in Shanghai.
"We are seeing a steady growth of Chinese indigenous entertainment shows in which more international elements are included. At the end of the day, the trend may even be reversed, with Koreans embracing a similar craving for Chinese products," Moon said.
But some people disagreed with the Hallyu phenomena.
"I accompanied my wife to eat Korean-style fried chicken, and I really don't like it. It's not even as good as KFC," said Dai Qiming, 30, a civil servant in Shanghai.
South Korean TV drama is popular only because it creates unreal characters that satisfy women's imaginations, he said.
He said the Hallyu phenomenon is also worrying to some extent, as under its influence the younger generation may abandon Chinese culture.
We recommend: