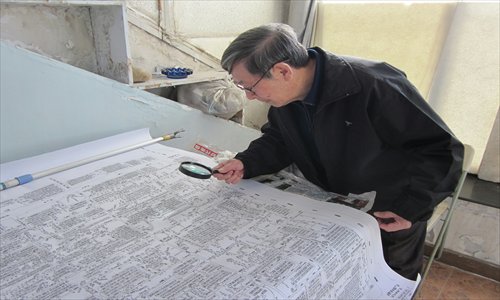 Shu Liao drafts maps of Beijing hutong. Photo: Lu Qianwen/ GT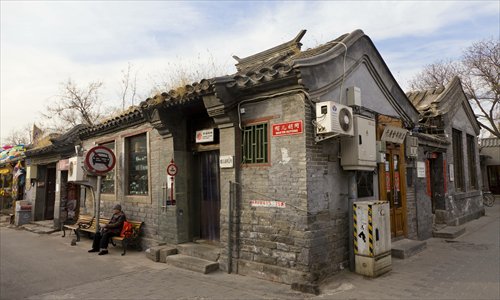 Mao'er HUtong off of Nanluoguxiang now bears few signs of its rich history. Photo: CFP
Visiting Beijing's hutong is a must-do when tourists come to the city, not just because of the winding alleys' long history, dating back to the Yuan Dynasty (1279-1368), but also the hastening pace of their disappearance.
However, most of the hutong you can visit no longer feature their original architecture and lack any historical feel, according to Shu Liao, a native-born Beijinger with a passion for the city's hutong.
In order to keep a relatively intact recording of Beijing hutong, the now 82-year-old Shu began wandering the hutong in 1987.
"I realized then that hutong will only vanish more rapidly in the coming years," Shu told the Global Times.
So for the next 15 years, he walked through tens of thousands of hutong in the city, photographing them and taking their dimensions with his feet.
"It's impossible to measure their length and width with a measuring stick," Shu remarked. "But I found using my foot to be more convenient."
Sometimes he waited for half an hour so that people's comings and goings wouldn't affect his photographic records. He accumulated more than 10,000 images of the old hutong during these 15 years. Additionally, his notes took up 46 notebooks, each containing logs of hutong locations and their contents, such as temples, snack shops, famous people's residences and schools.
Uncharted territory
After recording all these hutong, Shu started to map them out. This process took him eight years.
"It's impossible for me to draw all of them out on a single map," he said. "So I decided to draft them in pieces, according to their districts."
On a table in his home, 30 rolls of drawings make up his masterpiece: "A full graph of Beijing hutong at the end of 20th century," as Shu titled them. Each of these hand-drafted rolls is filled with thickly-dotted signs marking details like trees and gates.
Before retirement, Shu once saw a beautiful map, called "Full Figure of Beijing City," made during the Qianlong period (1736-95) by imperial painters. He felt inspired to create his own version for Beijing hutong.
"That Qianlong map, though depicting the locations of hutong, lacked any details," Shu noted. "Only by marking the temples and famous people's homes does a map convey the cultural significance of the hutong."
Forgotten couplets
As an important carrier of hutong culture, couplets on gates didn't catch much attention before, Shu said. Now with the disappearance of hutong, couplets are of even less note. Different from New Year's couplets, a tradition which most Chinese families still adhere to, the large characters of the hutong couplets are engraved on gate doors.
"Standing around a hundred years, those couplets feature the beauty of calligraphy in form, while delivering traditional culture in content," Shu said. "A couplet on the door can reveal the temperament of the owner." For example, among Beijing's old couplets, a frequently appearing one is, "Honesty keeps a family long standing, and learning makes it thrive."
"Many families chose to carve this couplet on their doors, reflecting Chinese people's great emphasis on traditional virtues of honesty and intellectual curiosity," said Shu. On the other hand, he continued saying, those couplets on the doors of famous historical figures are different from those of common families. "Residing near Jishuitan (a lake near in northwestern Beijing nearby the Second Ring Road), we live on pen and ink for generations," reads a door in the Ban-qiao Ertiao Hutong. Shu explained that it was the house of great painter Xu Lincun (1913-2005).
Collecting more than 240 couplets, Shu has spent four years writing the stories behind them.
"I have written about 50 articles entailing their literary allusions, moral lessons and cultural references," he said. "Couplets are the essence of hutong culture."
Work in progress
Nowadays as hot sightseeing spots for visitors, hutong are more or less taken over by businesses. For example, Nanluoguxiang, the most famous hutong in Beijing, is now widely known for the bars, cafés, restaurants and souvenir shops in the 743-year-old hutong.
"This isn't what an original hutong would be like at all," said Shu. According to him, the two most and important features are peace and quiet, both absent from many of today's hutong.
When the old streets are overrun with today's commerce, people are reminded of the original role of the alleys, which further underlines the value of Shu's efforts over the years.
"Several years ago, the Beijing Municipal Archives asked for my map, but I refused," he said. "I think my research still isn't enough. I want to keep working on it."
We recommend: