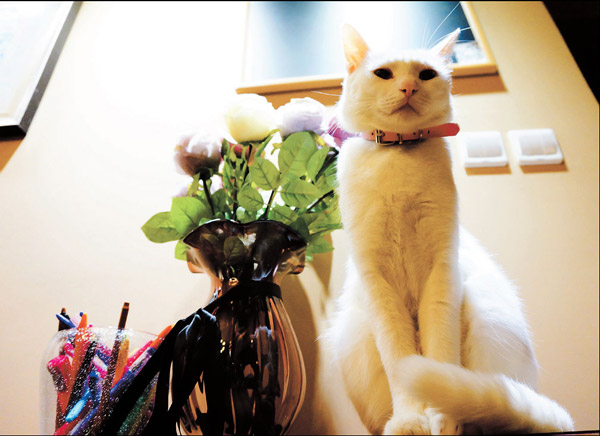 A cat welcomes customers at Cat Eyes cafe in downtown Jing'an District.
While coffeehouses with the furry hosts tend toward the expensive, they still attract a special clientele. Hu Min satisfies our curiosity about the trend.
For many people, a visit to one of Shanghai's 10 or more cat cafes is more than just finding a cup of java and a nosh.
For them, having a warm, furry kitty in their lap or snoozing at the feet is relaxing and worth a little extra cost and maybe some extra travel to reach their favorite cat cafe.
Some are students or others who can't have their own cats. Some just like the idea of watching different colors and kinds of cats at play and at rest. The cafes function kind of like a rent-a-cat.
The idea of cat-themed cafes originated in Taiwan, and soon spread to Japan.
In Shanghai, there are at least 10 such cafes. Many are popular, but costs can be high and patronage very particular — owners said they aren't big money-makers and most are in the business because they love cats.
It's a lot of work — imagine having so many cats and keeping your home clean, tidy and fresh. There are vet bills and costs for food and litter.
Business experts say location is extremely important and detailed market surveys are essential.
The cafes usually feature a relaxed, homey atmosphere where people can doze, sit and read over a cup of coffee and play with the cats. Sometimes their drinks or snacks are also feline-themed. Some have space without cats for those who aren't cat-crazy.
Many encourage a community feel with activities like lectures, festive parties and even psychological counseling to lure consumers. Some cafes also make it part of their mission to find homes for strays.
Cat Eyes
Stepping into Cat Eyes, a cafe in downtown Jing'an District (Rm 17A, Bldg A, 129 Datian Rd), visitors will be greeted by more than 10 cats. They love being around people and jump onto visitors' knees and may just fall asleep there.
The owner, 25-year-old Shanghainese Zhu Qian'an, opened the cafe two years ago on Guoshun Road in Yangpu District, where several universities are located, drawing many students.
"Many university students are pet lovers, but they don't have the conditions to raise cats, thus they visit our cafe frequently to enjoy a moment with cats," Zhu says.
After a time, she says, six similar cafes opened in the area after sniffing a business opportunity, and Zhu decided to move the cafe to Jing'an District. She expanded her cafe in a 132-square-meter apartment she bought to accommodate 11 cats. Of them, two were stray — Zhu picked them up on the streets in Yangpu District.
"Each cat has its own fans," Zhu says.
A stray cat named Chou Niu (meaning "ugly girl" in Chinese) was picked up by Zhu when it was three months old, and a fluffy white chinchilla cat are among the most popular. Others also have some cute names, some given by their fans, like Mo Cha (matcha green tea) or Bao Zi (steamed bun).
Zhu now gets a mix of office workers and students as patrons. She plans to host some activities such as cat photo contests or cat drawing contests in the near future.
At home, Zhu has a cat, a dog, a rabbit and a ferret. She designs pet clothing and sells it online. "I want to do something I like," she says.
Zhu wanted to study veterinary science in college, but majored in business due to her mother's opposition to her preferred field. After working in advertising and the car business, Zhu decided to do what she wanted.
"The most joyful moment for me is when customers happily play with the cats, and I make friends with some customers because we have the same interests," she says.
Zhu says she knows she's not going to get rich running the cafe. She says the store spends at least around 2,000 yuan (US$322) on the cats per month.
"I opened the store because that's where my interests lie, not to make big profits," she says.
Zhu hopes that she can help inspire people to stop animal abuse and help convince pet owners not to abandon their pets.
"Some people get a pet in a spur-of-the-moment decision, but they abandon the animals after they lose interest," she says.
We recommend: