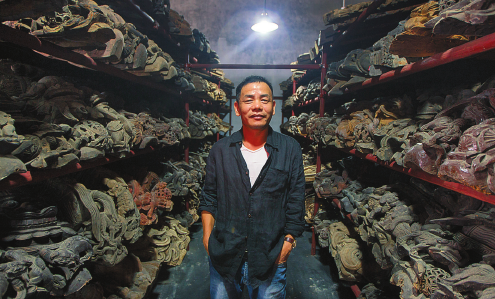 Qin Tongqian in one of the warehouses for his collection.
According to Ruan Yisan, professor of urban planning at Shanghai's Tongji University and an ardent advocate of historic-building protection, the preservation of these antique houses is not only about saving a few beautifully carved pillars, corbels, beams and windows from the merciless wrecker's ball. It's also critical to preserve the way our ancestors lived and the relationship between family members.
"Perhaps many think that old is ugly. But I don't. I love mixing the old and new, putting a patch on a crack of the houses. Why does it have to be the same whitewashed new houses? Diversity is beautiful, like the different four seasons," Qin says.
After proudly furnishing his home, offices and private clubs with his "pastime gadgets", however, the businessman started to look for new ways, or spaces, to display his overrun stocks.
As a result, he built himself a "theme park", a Legoland-like place for "antique-aholics like him to sleep, eat and spend the time in the way one's ancestors did", even for just one day.
Occupying a space of 197,000 square meters against a pristine mountain as a former tea garden on the outskirts of Shaoxing, the park, Ahn Luh Lanting, a cooperation with the Indonesian luxury hotel group Aman resorts, is possibly the first "all-old" hotel in the country.
With an investment of 700 million yuan ($115 million), the "painstaking construction process" began in 2009 and expected to finish at the end of 2014. The park consists of a swimming pool, two restaurants, a library, and 35 quaint mansions as residences, all reassembled from Qin's collections. Even the stone bridge stretching over the stream inside the resort is a century-old piece recycled from a water town in East China.
"They (the antique houses and furniture) are only animated when there are human beings living inside and with them, or more transcendentally, communicating with them," says Qin, explaining why he didn't opt to create a museum instead.
"Every piece of carving, be it brick, wood or stone, is a century-old book, in which our ancestors tried to pass down his life lessons through the vivid and elaborate craft," he says. Above him on a camphor-wood corbel is a carved illustration from a Chinese folk tale telling children to fulfill their filial duty.