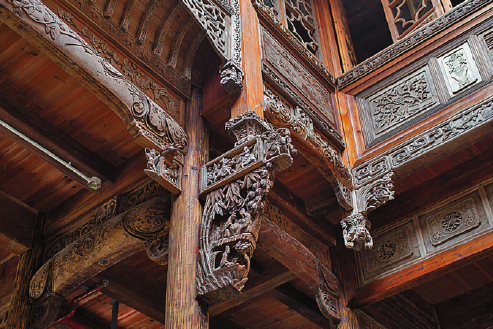 A part of a reassembled old house at the resort.
So starting from a set of eight windows from the Qing Dynasty (1644-1911), Qin's collecting has been "unstoppable". He'll fall in love with a chair, and then bring back a whole set of furniture. Going for a door, he'll snap up the whole house.
Qin says he cannot remember how much money he's has invested or how many items are in his collection. A rough estimate would be tens of thousands of furniture pieces, hundreds of vases, paintings, calligraphy works and, most amazing, more than 200 old houses, dismantled as pieces in warehouses. Most are works of Ming (1368-1644) and Qing dynasties. And he has never sold a single piece.
No rules have been set by Qin when recycling such "trash disliked by countrymen", especially during the early years of his collection. He has hired a team of about 10 people to regularly "go deep into the countryside" to search for "treasures" for him and 200 or so carpenters to repair the houses and furniture for him.
Replicas have been rampant, as Qin admits, especially since the 1990s, and many have eyed the potential market. But he is barely discouraged.
"I have gotten more shrewd every time I was taken in. On the other hand," he says, "I avoided the most dangerous section, the market of china and vases."
Collecting becomes harder as the market gets ever more crowded, and the government has introduced a series of policies banning the sales of old houses, labeling them as cultural heritages. Qin hasn't bought a house since 2005.
But his collection lies less in numbers and price tags than in its cultural values.