Drifting down the Taoyuan River is a great way to shake off the city blues and satisfy your thirst for adventure. Li Yang takes the trip of a lifetime.
Adventure and relaxation are great ways to shake yourself out of the hum drum routine of city living. Taoyuan River drifting is a popular activity for thrill-seekers who want to stay safe and have some fun in the great outdoors.
The Taoyuan River drift tour center in Xiuwen county, Guiyang, the capital city of Guizhou province, is only 40 km from downtown Guiyang.
Safe, fun, thrilling and very relaxing, the unique water activity is a must-try.
Combining lakes, mountains, rivers, caves, springs, waterfalls, gorges and fossils, the 9-km natural river drifting tour provides a new attraction for Guizhou tourism.
Travelers can enjoy clear rivers and thousand-year-old cliffs and forests and sightsee and explore all at once.
Taoyuan River has long been committed to getting tourists to experience "drifting in gardens", says Liu Yu, general manager of the Guiyang Xiuwen Taoyuan River Drifting Co Ltd.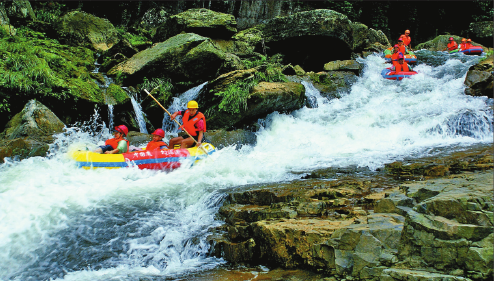 A white-water rafting tour is the best way to experience the thrill of Taoyuan River.
"Developing Taoyuan River into an international tourism resort is also our core target so we plan to invest 30 million yuan ($5 million) to carry out its construction to upgrade the area. We expect to declare the Taoyuan River a national 5A tourist attraction in 2015," Liu says.
According to Liu, Taoyuan River was one of the first places in China to adopt the One-Card service system, an advanced customer service system that is very convenient to travelers.
It was sunny when we arrived at the Taoyuan River. After changing clothes, we began our 9-km drifting trip.
We relaxed as the rubber dinghy floated downstream while singing a melodious song accompanied by the hum of river.