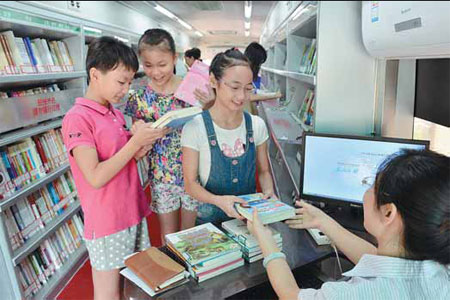 Students borrow books at the mobile library in Shijiazhuang, Hebei province. The converted bus has proved popular this month. Chen Tengfei / for China Daily
A mobile library is proving popular with book lovers in Shijiazhuang.
The library, launched on Aug 18, was set up by the Hebei provincial library and is visiting various city communities every Saturday.
The 11-meter-long "library" was converted from a new 50-seat bus. It has more than 3,000 books, covering various topics, including politics, law, economics, literature, art, history, geography and children's stories, to whet readers' appetites.
The library can accommodate 20 people at a time, and readers can apply for a library card.
Computers on board are connected to the Hebei Library system and allow readers the full range of normal services, including making appointments and ordering books, said Zhou Jianyong, staff member of the mobile library.
The library has its own power generator and with five tables at the back of the bus, readers can enjoy their books in comfort.
"The mobile library is great news," said graduate Cao Xiaolong. "If it can set up a station near my home, I will go there as often as possible as it is really very convenient and saves a lot of time."
Cao said he often visited libraries, especially during summer vacation. But getting to one could be time-consuming, often taking about an hour.
Gu Yuqing, deputy director of Hebei Library, said they set up the mobile library to bring the joy of reading closer to the public.
She explained that both the Hebei Library and Shijiazhuang Library, the city library, are located in the same district of Shijiazhuang.
There will be a trial period, during which the mobile library will go to communities in Shijiazhuang every Saturday as well as other public areas, such as the city's labor market.
But the size of the bus has caused a few problems.
"Because it is big we have had difficulty finding appropriate stations," Gu said. "Not every community is willing to let us park."
But, Gu said, the whole point of it was to give people greater access and let them discover the joy of reading.
They are gauging public opinion during the trial period to see which sites are more convenient than others.
"There is no doubt it would be convenient but I would still prefer to go to the real library to read," said Zhu Tong, a university student, who goes to the Hebei Library almost every day after he finishes class.
"I enjoy the atmosphere of a real library, it is very quiet. However, in the mobile library, people walk up and down from time to time," Zhu said.
Mobile libraries are playing an increasing role. Apart from Shijiazhuang, they have appeared in a number of cities, including Zhongshan, Guangdong province, in 2008, and emerged in downtown Shanghai in November 2011.
We recommend: