Liyuan Library integrates architecture into the natural landscape using traditional Chinese architectural concepts.
Rows of firewood are the first impression of Liyuan Library, which sits beside a pond surrounded by mountains in the Huairou district of Beijing. On a day when the tranquility is broken only by birdsong, it is "a setting for clear thoughts" as the building's designer describes it.
Designed by Chinese architect Li Xiao-dong, the library was one of the winning designs in the 2013 Architecture of Necessity competition held in Sweden in June, making it the first Chinese project to claim the honor.
"It is a contemporary project, but it is full of Chinese traditional wisdom," says Li, who is also a professor at Tsinghua University in Beijing. "I wanted to explore how to integrate architecture into the natural landscape using traditional Chinese architectural knowledge."
The intention was to make a modest complement to the beauty of the natural surroundings. "You can never compete with nature's splendor," Li says.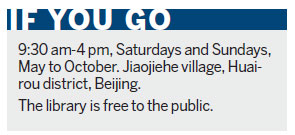 Li also wanted it to resonate with the local villagers. "With Liyuan, I also tried to test new ground by using local materials to address the issues of the local community, which is another important aspect of sustainability."
When Li strolled around the village for research, he found that one of the richest local resources was the wood the locals use for heating and cooking. He decided to use this ordinary material in an extraordinary way.
More than 40,000 sticks were cut to a uniform length and used to clad the exterior of a glazed shell. The multiple layers of sticks not only act as decoration, they also filter the daylight to create a nice ambience for reading. "From season to season, the color of the sticks will change with the mountain," Li says.
As there is no artificial coating, Li expects the sticks to house birds and other wildlife.
"The sticks came from nature and will eventually evolve into part of nature again. I want the building to have the least impact on the landscape, which echoes the Chinese philosophical idea that humans are part of nature."
Inside the building there is no traditional furniture, as the steps between levels also act as seats and shelves. "We've had this idea of a modular system in the Chinese tradition of architecture all the time," Li says.
On weekends, the place can be quite busy, as Beijingers come to escape the city. However, there are still quiet corners to be found for those who actually want to read a book.
We recommend: