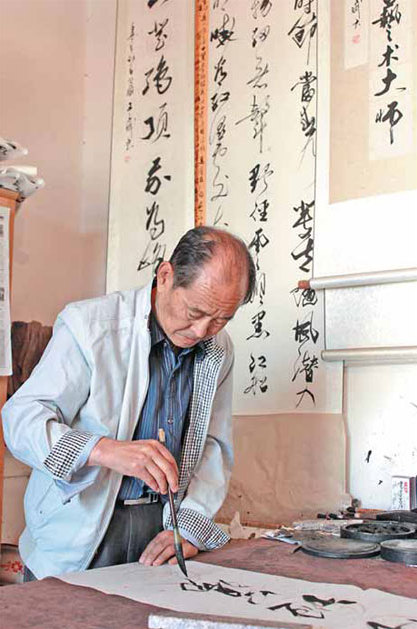 Wang Wenbin is one of the trailblazers who promoted calligraphy among the miners in Wuhai, the Inner Mongolia autonomous region. Photos by Wang Kaihao / China Daily
A gas station in Wuhai is decorated with calligraphic characters.
The ancient art of calligraphy has blossomed in a fresh modern outpost, Wang Kaihao and Yang Fang report from Wuhai, Inner Mongolia.
Banners of calligraphy hang all over the airport terminal of Wuhai in the west of Inner Mongolia autonomous region. A gas station on the highway leading to downtown is also decorated with exquisite calligraphic Chinese characters.
It is difficult to link this city, with only decades of history on the edge of the Gobi desert, to that art form steeped in Chinese tradition. It's even more surprising to learn that the China Calligraphers' Association declared Wuhai the nation's first "City of Calligraphy" in 2008.
However, more than 10,000 people out of the local half-a-million population consistently practice calligraphy, excluding relevant classes at all local primary schools and some high schools and universities. Meanwhile, 3,000 people participate in all levels of fine arts exhibitions. That's striking in an immigrant city long known for its rich coal reserve and industrial base.
Wang Wenbin, 69, is the former head of the city's calligraphers' association. When he traveled more than 3,000 kilometers from his hometown of Manzhouli in Inner Mongolia's far northeast to Wuhai in 1966 to work in a coal mine, he never expected to find himself in a booming calligraphy hub. Born into an accountant's family, he had practiced the art back home.
"People used to keep accounts via writing brushes, which forced me to have a fine handwriting in my childhood," he explains, rummaging through some yellowing papers which record the history of the mine. "It is a coincidence that a doctor at the mine is an outstanding calligrapher who encourages miners to switch to this hobby after seeing their unhealthy life style."
Many miners' spirits are low after tiring work, which leads to frequent absenteeism. They may easily squander their wages on alcohol because they have nothing to do within their short spare time.
"At least, calligraphy is a better idea to kill time," Wang recalls. "Boring work nurtures abundant ways for entertainment."
He felt lucky to be able to shorten working hours underground because he was sometimes assigned to write posters for the mine's publicity department.
"The miners' writings are generally unconstrained," Wang says. "We don't want to follow old disciplines and get restricted by certain ancient style. Each one develops unique characteristics."
Some rusticated youths from Beijing and Shanghai, who came to work at the mine in the 1970s, enlarged the calligraphers' squad and they often organized small exhibitions. The end of the "cultural revolution" (1966-76) gave impetus to their wave of stronger emotion.
In 1979, Wuhai's first enterprise-level arts and literature group was founded in the mine. Wang gathered several colleagues to publish their first album, The Black Jade, in 1983. The appeal of this aesthetic writing soon mushroomed, and numerous calligraphy schools and classes opened for the public.
Zhu Xiaoyu, 49, is an employee of a local district's industrial and commercial bureau. She was frustrated shortly when she started work there in the early 1990s because all proprietors' names on the business licenses were written by hand.
"If my handwriting is not good, it will be impolite for the proprietors," Zhu says about her simple motive to learn calligraphy. "Since there are so many schools and the annual tuition is less than my monthly salary, it was practical to grasp the skill."
Zhu soon fell in love with ink and called for more colleagues' participation. A fad finally became their longtime fashion.
"Office work is mundane and many of us were introverts," Zhu says. "However, calligraphy restores our self-confidence. People will respect you more when you write beautiful characters. Couples will also quarrel much less when they abandon playing mahjong in their spare time."
Her bureau is one of the city's most calligraphy-fanatical institutions. Nearly half of its 50 women on staff have taken up writing brushes. They launched the Wuhai Women Calligraphers' Association in 2002, only one of numerous similar organizations in the city.
"Maybe I will consider selling my pieces after retirement," giggles Zhu, now a member of the China Calligraphers' Association. "But I still have to improve my skills. It is common that I write until suddenly I find it is past midnight."
Zhu spends about 14,000 yuan ($2,280) a year, almost half of her annual income, hiring teachers from Beijing for further study. She appreciates that her husband is supportive and never complains.
The city's name means "a black sea" in Chinese, says Guo Zhenlian, chairman of Federation of Literary and Arts Circles in Wuhai. "We bowed to dig coal for decades, but it's time to switch to ink now," he says.
According to Guo, the municipal government allocates about 5 million yuan a year to promote calligraphy, more than the budget used for festivals and special events. She proudly claims that no other Chinese cities were likely to spend that much for similar work.
"Calligraphy may be only a line on the business cards of cities with long histories and rich cultural heritages, but it is the business card itself for Wuhai," Guo says. "So, it looks brighter here."
A rising star has gained them a new fame. A Henan province-native Feng Yinqiang, 44, moved to Wuhai in 2010, enticed by its passion for calligraphy and freer lifestyle than in Beijing, where he ran a studio for years. One of his works topped the Lanting Awards, the highest honor in China's calligraphy circle, in 2012, bringing that laurel to Inner Mongolia for the first time.
"Calligraphy represented social elites' noble characteristics in ancient times, and it continues to impart positive values to the public," he says. "It aims to pursue a certain spirit rather than simply chasing awards."
He appreciates that Wuhai has a mix of professionals and amateurs.
Feng now runs a studio in a mall called Phoenix Calligraphy and Painting City, which opened in April 2012. This place has become a hub for more than 40 calligraphers.
However, Wang Zhenning, managing director of the mall, reckons that lack of a market-driven system has damped an ambitious dream for the city to build an even bigger calligraphy center.
Since most local calligraphers have regular jobs and do not live on these works, he says, they hesitate to lower the price. A simple piece usually sells for more than 1,000 yuan, but locals wages are not high enough to support a booming market. That could ultimately restrict the influence of Wuhai's calligraphy as a whole.
"A national city of calligraphy means more than that many locals practice writing," he says. "People need to be able to appreciate and to afford the works at the same time."
Contact the writers through wangkaihao@chinadaily.com.cn.
We recommend:
Restoring the glory of Chinese china
Shanren releases danceable tunes from the mountains