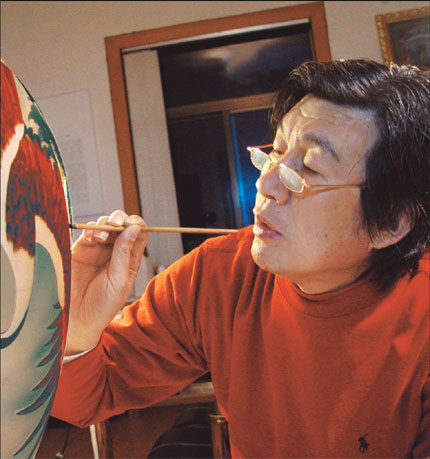 Li Youyi colors a china work. Trying to build China's own luxury brand of china products, Li's works have been presented as national gifts to foreign leaders.
Though China is the birthplace of China, the finest chinaware is made by famous European brands: Rosenthal, Royal Doulton, Royal Albert and Wedgwood. Li Youyi, founder of Han Guang Ceramics, is trying to change that with his own Chinese luxury brand of china: Han Guang.
Han Guang literally means the luster of China.
Li's works have been presented as gifts to foreign leaders, including US President Barack Obama and former Korean President Lee Myung-bak.
"China's china is not only about one name or brand, but elevating the whole industry," he tells Shanghai Daily at the opening of his first solo show at Sui Xuan Art Space. Thirty of his recent ceranuc vases and 15 plates are on display through June 23.
"One day when a person is strolling among the boutiques on 5th Avenue in New York, he might unexpectedly encounter a boutique in which all the pieces are labeled 'made in China.' This is a dream I would really like to see come true."
For two decades, the ceramist and traditional ink-wash painter has been developing his own china and finally found a perfect (of course, secret) ingredient.
Jingdezhen, the capital of China's pottery industry in Jiangxi province, is legendary, but its products pale before world luxury brands.
Li, born in 1954 in Hunan province, has developed a patent for his high-fired temperature under-glaze technique, which differs from that used for traditional under-glazed porcelain.
"You can call me a ceramics maniac," he says. "What occupies my mind is ceramics and nothing else."
A graduate of the Fine Arts and Crafts Department of the Central Art Academy in Beijing, Li was sent to Japan as a visiting scholar in 1989. "In the class, one Japanese student asked me why China's china remains the same and always copies earlier works," Li recalls. "At that moment, I recalled how low the reputation of Chinese ceramics was on the international stage.
"I was quite ambitious and told myself that I would one day build up a world-class ceramics brand."
After years' effort, now Li has a boutique inside the Equatorial Hotel, a counter at the Oriental Department Store and the 1,600-square-meter exhibition center at the Nanjing Road Pedestrian Mall.
In 1994, Li founded the Han Guang Ceramics Institute in Shanghai, investing all his savings on the venture.
It didn't go well. Friends who had invested withdrew their shares. He and his wife divorced.
"During the toughest times I was not even able to pay my rent," he says. "However, thanks to my perseverance and will, I overcome all difficulties. I don't give up easily."
His first challenge was how to develop a high-quality mineral ingredient for clay, a key factor determining whiteness, brightness and translucence. He scoured mines around the country.
We recommend: