A trial fishing activity in the run-up to the Changlin Lake Winter Fishing Festival was held on Dec 24, 2012, on the frozen surface of Changling Lake, Harbin, capital of Heilongjiang province. Each year, the fishery of Changling Lake turns out 100,000 kilograms of commercial fish.
The annual Changling Lake Winter Fishing Festival represents traditional ice fishing methods in Northeast China. Ice fishing is the practice of catching fish with lines and fish hooks or spears through an opening in the ice on a frozen body of water.
The 4.18-square-kilometer Changling Lake is home to more than 50 million kilograms of fish. The environment and ecology has been improved greatly in recent years due to vegetation restoration around the lake. More than 20 fish species, including a dozen wild fish, live and multiply here.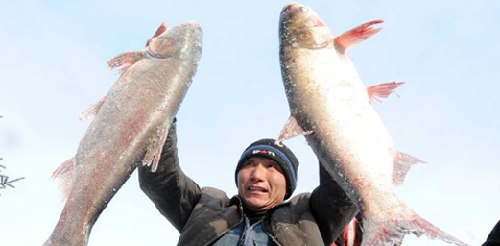 During the opening ceremony on Dec 29, the most experienced and venerable angler in the county will butcher a pig, consecrating it in a ritual by covering it with a red cloth and throwing it into the ice hole to pray for safety and a good fishing harvest.