French artist: Art can resolve misunderstandings
Updated: 2019-09-30 09:18
(chinadaily.com.cn)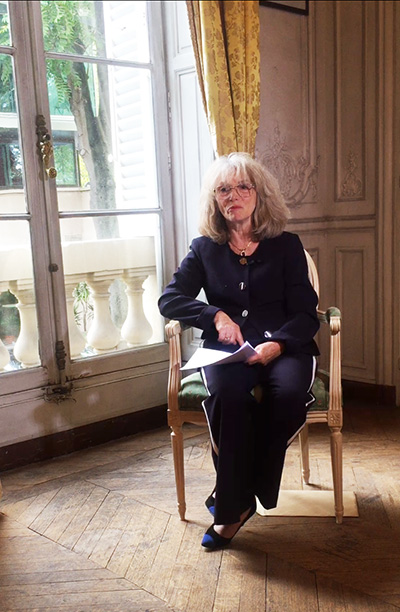 French artist and architect Martine Delaleuf sits down for an interview with China Daily Website at China Cultural Center in Paris. [Photo by Feng Minghui/chinadaily.com.cn]
To French artist and architect Martine Delaleuf, also President of Société des Artistes Français, art can be the best medium to resolve misunderstandings among cultures.
"I was visiting Yunnan (in Southwest China) and I made a painting of local women, who were wearing beautiful (ethnic) clothes.
"I saw people who were very kind. It was very different from how things were reported in the newspaper. It is a marvelous way to discover a country," said the Parisienne who has been known for her clean lines, vibrant colors and devotion to painting for more than two decades.
Delaleuf, who has organized numerous exhibitions that have encouraged art and cultural exchanges between China and France, said during an interview with China Daily Website at the China Cultural Center in Paris that she sees art as a language without borders.
"Artists have special feelings when they are in front of a work of art. They understand a lot without words. With very old art, we feel that (connection) stronger, so it is easy for us to exchange even if we don't speak the same language," said Delaleuf.
And sometimes that abstract-yet-solid connection is even harder to put in words.
"It's difficult to explain a painting or a drawing. That's why it's better for us to meet even if we don't speak the same language. It's easier to understand other countries (that way)," she said.
Among the Chinese art Delaleuf has seen, both during her three visits to China and at exhibitions she has helped to organize or attended herself, ink wash is her favorite, because it is something so far from what she is used to working with.
"Ink wash was very strange for us. I love ink wash because I don't know how to paint that way. In our last salon we invited five Chinese artists who work with old materials, like ink wash, but used them in new ways to make modern art. It's a very new feeling for me," Delaleuf said.
"I love ceramics too: the old ones and the modern ones are both appealing. I know I'm not alone to love that," the artist added.
As for the exhibitions themselves, Delaleuf said these forms of exchanges between artists from China and France should continue.
"I think we must go on this way because we learn to appreciate each other. (It is a chance for) artists to talk to each other. It's a real pleasure to see that. It is a good way for French people to learn about China.
"Our countries have a historical link and I hope this friendly link lasts a long time. Artists are welcome in France. Chinese people are welcome in France. I hope the French people and French artist are too in China," Delaleuf said.