Museums open doors to foreign cultures: Cernuschi Museum director
Updated: 2019-09-30 09:45
(chinadaily.com.cn)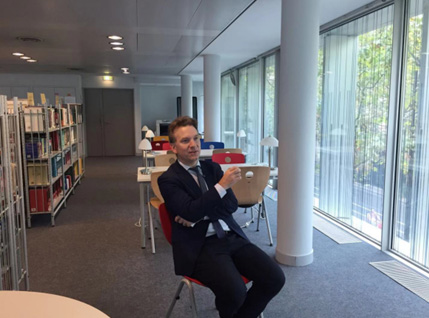 Eric Lefebvre talks with journalists in an interview at China Cultural Center in Paris, Sept 26, 2019. [Photo/chinadaily.com.cn]
Eric Lefebvre, director of the Cernuschi Museum, is a specialist in Chinese art history. He has studied at the National Institute of Oriental Languages and Civilizations, Ecole du Louvre, China's Peking University and National Academy of Fine Arts.
In a recent interview with China Daily Website, Lefebvre shared his views on the early influence of Eastern arts in Europe, the Cernuschi Museum's main shows on Chinese art, as well as the role of arts in promoting culture and human relations.
A major Asian art museum in France, the Cernuschi Museum has run a series of exhibitions on Chinese artwork over the past decades, such as Chinese paintings, bronze work and cultural relics of ancient China's Han Dynasty (206 BC-AD 220).
Late 19th century a golden age for Asian arts in France
"The late 19th century was the golden age for Asian arts in France," said Lefebvre.
Henri Cernuschi (1821-1896), founder of the Cernuschi Museum, visited Asia from 1870 to 1873 and collected more than 5,000 pieces during the three-year trip. Among them, Chinese and Japanese art was well represented took. He organized a major exhibition on Asian art in 1873, causing a buzz among Parisian art lovers.
The Cernuschi Museum was built based on his collection in 1898. More than a century after that, it has grown into a leading Asian art museum in France, housing a large collection of Chinese art and contemporary paintings, and is especially well known for its collection of Chinese bronze.
Language, arts open doors to culture and human relationship
"Language opens many doors, not only related to arts, which was my first purpose (of learning Chinese), but also to culture and human relationship," says Lefebvre.
Lefebvre started to learn Chinese during his second year at Ecole du Louvre and later had the opportunity to study in China's Peking University and National Academy of Fine Arts. He has visited many Chinese museums in the past years for professional reasons.
"Most Chinese museums now have beautiful designs, beautiful exhibition bases, but everyone has their own identities due to their collections. For instance, when I'm thinking about paintings, I really enjoy the Shanghai Museum, because the painting collection is always new. Every six months you can have a full experience," Lefebvre said.
Since China's reform and opening-up, many French people have got to know more about Chinese art and culture.
The Cernuschi Museum has collaborated with many of its Chinese counterparts, hosting shows including paintings from the Shanghai Museum, porcelain from the Zhejiang Provincial Museum and Han Dynasty relics from Shandong Museum.
In 2009, for example, the museum hosted an exhibition of Qingzhou Foxiang (Buddhas from Qingzhou city) in collaboration with East China's Shandong Museum, offering museum-goers a close look into ancient Chinese Buddha statue art.
"The Qingzhou Buddhas were really a major archaeological finding in China," Lefebvre said.
"Some people in France and Europe don't know where Shandong is, or where Qingzhou is. They don't know much about Buddhism, but somehow they find these objects so magnificent, and they can feel it's important. So they came. They were deeply impressed. It opens doors of the beginning of their interest in Chinese culture."
Touching on his museum's main attractions, Lefebvre told China Daily, "Our museum is in an old building, a 19th-century building. We really hope that Chinese visitors can not only look at the Chinese objects here, but can also see how they were collected in the 19th century."
"We also want to provide basic knowledge on the major aspects of Chinese culture. We want people to understand that Chinese art had influenced Western art, in which period and why," he said.